Emergency Care
McKenzie Health System provides you with fast, expert emergency and trauma care for Sanilac County and surrounding communities. Our Emergency Department can manage a wide variety of medical emergencies, including life-threatening health conditions. We have earned the confidence and trust of our local community.
Our Emergency Care Department has the following certifications:
Level IV Trauma Facility
Joint Commission "Acute Heart Attack Ready" Certified
Mission: Lifeline STEMI Certified
ACHC "Stroke Ready" Certified
Emergency Stroke Care-Telemedicine (in conjunction with Ascension Michigan - NeuroOnCall Telemed Network)
Level 3 Geriatric Emergency Department




Our Emergency Staff
The McKenzie Health System Emergency team offers unsurpassed patient care, anytime, day or night. Our Emergency Department is staffed with physicians working around the clock alongside skilled, licensed, and registered nurses. Our physicians and registered nursing staff have advanced training in both adult and pediatric trauma care and cardiac care.
The Emergency Department works closely with our Diagnostic Imaging, Laboratory, Social Services, and Cardiopulmonary staff to maximize the care you receive.
Level IV Trauma Facility
McKenzie Health System is a Level IV Trauma Facility. The Level IV Trauma Facility designation means that critical patients will come to McKenzie Health System Emergency Department, be stabilized, or treated, and may then be transferred to a Level I, II, or III facility, depending on their condition.
McKenzie has the distinction of being the first critical access hospital in the State of Michigan to be fully accredited as a Level IV Trauma Center. Full designation is only awarded for an entire 3 years when a facility has met all the requirements, allowing for only a small number of minor deficiencies.
The Michigan Trauma Program was created because of a statewide assessment of the state's needs by the Michigan Trauma Commission. It is designed to match the needs of injured patients to the appropriate trauma care facility, so every patient receives optimal care from the initial recognition of the injury through their return to the community.
As part of the Michigan Trauma Network, McKenzie Health System must participate in Regional Trauma Network injury prevention work plans and initiatives. Because falls are the number one type of injury in our community, McKenzie provides public education programs on fall prevention for the community and works with seniors and others to provide opportunities to gain balance and strength.
The Level IV designation is the culmination of years of preparation and state scrutiny to ensure McKenzie is prepared to:
Treat patients needing Level IV care
Assemble a trauma team in 30 minutes or less
Participate in regional and/or state trauma organizations
Transfer patients requiring more comprehensive care at a Level I, II or III Trauma Facility
Maintain a 24/7 schedule of nurses and doctors that have ongoing training in trauma care
Make X-ray and CT available at all times
Telemedicine Advantage for Advanced Stroke Care
Advanced telemedicine at McKenzie Health System connects our Emergency Department to Ascension Michigan's Neuroscience Center of Excellence, with facilities that are nationally certified as a Primary Stroke Center such as Ascension St. Mary's of Michigan. Using advanced robotic technology, specialists there help McKenzie staff evaluate and treat stroke patients. Until now, this level of highly specialized stroke care was not available in the Sanilac County area.
McKenzie's Telemedicine program allows stroke patients to receive immediate, advanced care without wasting critical time traveling to another area.
The use of telemedicine devices, once a novelty, is now standard medical practice in daily use throughout the world and is ideal for emergency situations such as stroke.
Awarded ACHC's "Stroke Ready" Certification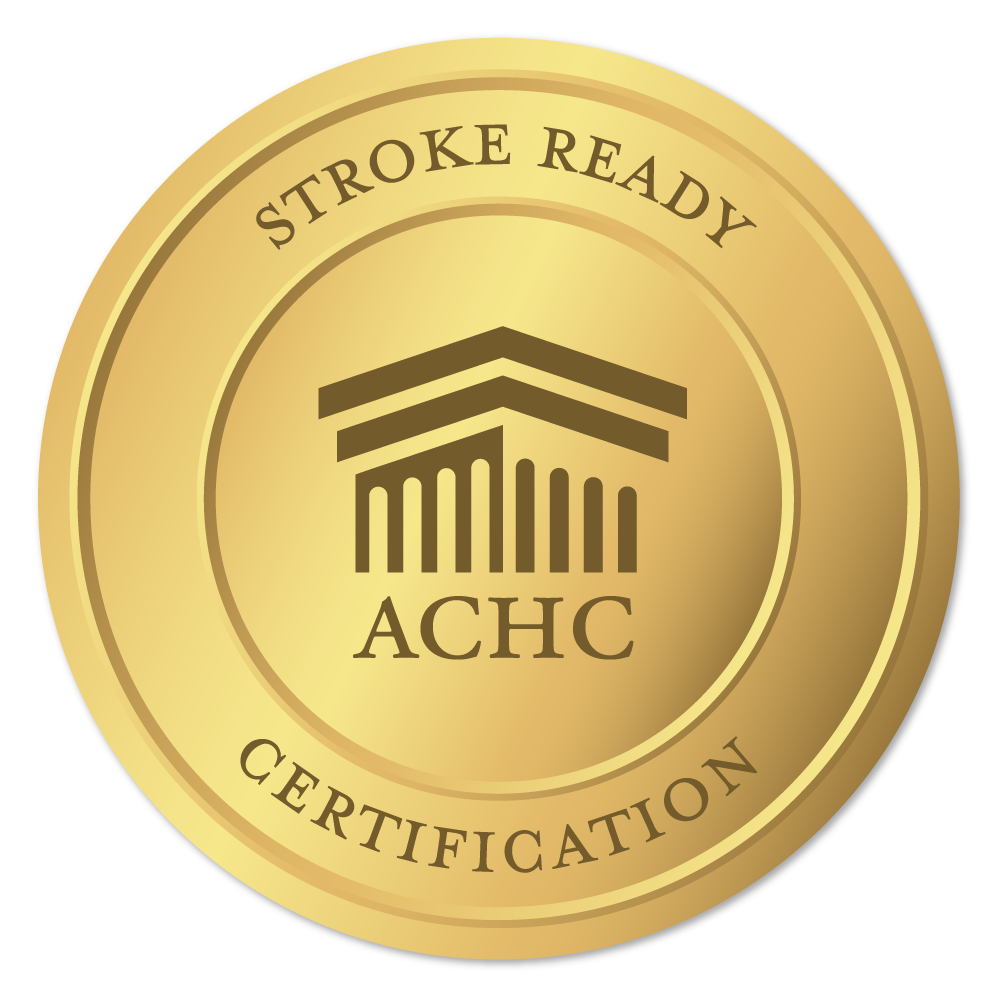 McKenzie Health System was awarded certification by the Healthcare Facilities Accreditation Program (HFAP), the nation's original independent accreditation organization recognized by the Centers for Medicare and Medicaid Services (CMS). With this designation, as the first Critical Access Hospital in Michigan with the HFAP "Stroke Ready" certification, McKenzie Health System is committed to high-quality care as determined by an independent, external evaluation process.
As designated by HFAP, now through ACHC (Accreditation Commission for Health Care) Stroke Ready centers provide timely access to stroke care and indicate to the community and emergency medical services that hospitals are prepared to meet the initial needs of stroke patients. Further, the organization has indicated a growing need for stroke-ready centers, particularly in rural America.
McKenzie Health System focuses on quality regarding timeliness of lab work, imaging, assembling of the interdisciplinary stroke team, and use of thrombolytic therapy
Time is not on the stroke patient's side, so being certified as "stroke-ready" is important because certification affirms that we know how to best manage treatment that could reduce disabilities often resulting from having a stroke.
Oxy-Free ED
McKenzie Health System is concerned about the welfare of our community. In the face of growing prescription medication addiction, overdose, and deaths, our Emergency Care Department is restricting the dispensing of narcotic and sedative medications, such as oxycodone and oxycontin, for chronic pain complaints. McKenzie's Oxy-Free ED Policy is available upon request. The McKenzie Substance Abuse Recovery Program was also established as a resource for community members struggling with addiction as a viable option for recovery.
Our Emergency Service Expertise
From unexpected minor injuries to emergency assistance managing chronic illness, it's comforting to know that the McKenzie Emergency Department is trained to provide the urgent care you need.
Blood Transfusion
Blood Gas Evaluation
Central Line Placement
Critical Care Management
Trauma Care
Acute Pain Management
Ventilator Support
IV Therapy
Pediatric Emergency Care
Chemical Exposure
Motor Vehicle Crash
Farm Equipment Injury
Amputation
Emergency Surgical Services
Abdominal Trauma
Stroke
Cardiac and Respiratory Arrest
Head Injury
Equum Medical – Acute Care Telehealth
McKenzie Health System has taken steps to bring specialty care to the hospital campus. What does this mean for the community? It means, in more cases, patients can remain close to family and friends while they receive treatment and recover. This is being done through a partnership with Equum Medical.
Equum Medical's Multi-Specialty Telehealth service provides intensivists who are board-certified physicians trained to care for critically ill patients. Their mission is to deliver comprehensive remote consultative healthcare across various medical subspecialties, enhancing access to specialized care, optimizing resource utilization, and reducing unnecessary transfers and care delays. Through standardizing care protocols, reducing unnecessary transfers, and avoiding delays in care due to lack of access, Equum Medical provides expert care with diagnostic testing and treatment options for patients. This approach enables emergency departments to improve patient outcomes, reduce wait times, and enhance the overall quality of care.
Message from McKenzie Health System CEO, Steve Barnett
"Our goal is not just to achieve certifications, but to assure patients that we are prepared to manage their condition competently and efficiently. We appreciate the opportunity to fine-tune our quality programs and policies and to showcase our ongoing dedication to quality of care. Most importantly, we are passionate about providing this level of care to the community."
Barnett offered the example of an NFL football team with the goal of winning the Super Bowl: "We wouldn't just contract the best quarterback and hope that was enough. We would fill each position with the best available talent, make sure the coaching staff is of the highest caliber and committed to the goal, create the playbook, have everything planned for ahead of time and practice until the plays are as fine-tuned as possible. That's what a 'system of care' is and why we pursue certifications. Taking our team through the process of developing the very best programs, policies and protocols brings them to the point that when those days come, and the emergency happens, we have done everything we possibly can to give this person and their loved ones the very best outcome. This sets the bar high for our team, but it is the level of care we are committed to providing to our community."