Pulmonary Rehabilitation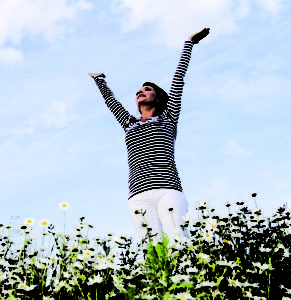 Pulmonary rehab is an evidence-based, multi-disciplinary, and comprehensive intervention for patients with chronic respiratory disease. Integrated into the individualized treatment of the patient, pulmonary rehab is designed to reduce symptoms, optimize functional status, increase participation, and reduce healthcare costs by stabilizing or reversing systematic manifestations of the disease. Our pulmonary rehab program at McKenzie Health System offers the best option for patients with symptomatic, chronic airflow diseases. It does not reverse or stop the progression of the disease; however, alleviating symptoms can benefit overall health and improve quality of life.
The program includes monitored and supervised exercises and thorough education about your pulmonary condition, control of symptoms, medications, and oxygen. Patients learn stress reduction and/or management techniques, undergo nutritional guidance, and receive exercise counseling and training. Exercise increases ventilation and perfusion to meet your body's demands. Training of respiratory-related muscles can improve exercise tolerance and oxygen utilization. When combined with education, smoking cessation, and proper medication use, pulmonary rehabilitation offers the best treatment option for patients with symptomatic pulmonary diseases.
Goals & Objectives of Pulmonary Rehab
The goal of pulmonary rehab is to improve lung function and decrease symptoms and shortness of breath by improving energy, strength, and endurance.
Patients will:
Gain greater knowledge of oxygen equipment and pulmonary medications
Reduce anxiety and improve self-reliance
Reduce the need for ER visits or hospital stays
And more
Throughout the course of rehab, they will be better able to engage in daily activities and improve their quality of life.
Pulmonary rehab helps to control and alleviate symptoms associated with lung impairment and restore functional capabilities. Patients will learn breathing techniques, apply airway clearance, and develop stress management and relaxation techniques. Our clinicians teach patients how to achieve optimal capability to carry out activities of daily living by creating a personalized plan to help them maintain general health and wellness despite lung damage.
Questions? Call 810-648-0577
Who Benefits from Pulmonary Rehab?
Many patients with chronic respiratory disease can benefit from pulmonary rehab, including those with obstructive diseases such as:
COPD
Asthma
Bronchiectasis
Cystic Fibrosis
Or restrictive diseases such as:
Interstitial fibrosis
Occupational or environmental lung disease
Sarcoidosis
Kyphoscoliosis
Post-polio syndrome
And other conditions, including:
Post-COVID Breathing Issues
Lung cancer
Pulmonary hypertension
Before and after thoracic and abdominal surgery
Before and after lung transplantation
Before and after lung volume reduction surgery
Phase 3
This optional maintenance program is available at McKenzie Health System for patients who have completed Phase 2 of McKenzie's cardiac rehabilitation program or have completed McKenzie's pulmonary rehabilitation program.
Phase 3 is designed to help patients continue to maintain a healthier lifestyle through supervised exercise sessions and health education. Phase 3 is not covered by insurances and will require a small charge for the patient.