McKenzie Health System Visits Schools for Emergency Preparedness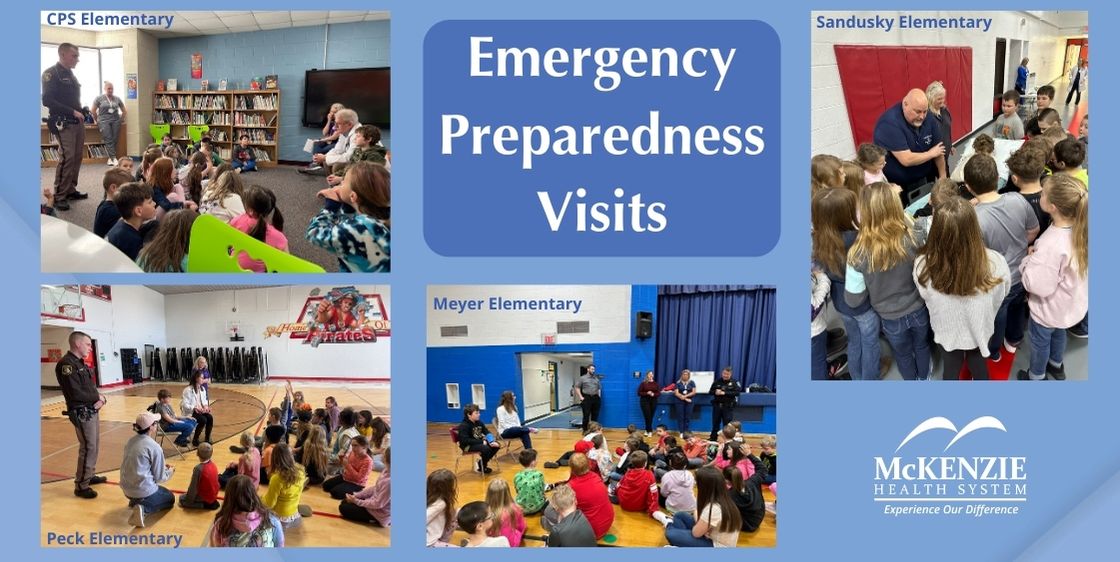 With a focus on safe communities and emergency preparedness, the McKenzie Health System team, along with other emergency responders, recently visited several local schools to help students understand what to do in the face of an emergency. McKenzie Health System staff recently visited third-grade students at CPS Elementary, Peck Elementary, Sandusky Elementary, and Meyer Elementary to help prepare students and staff for potential real-life emergency situations and 9-1-1- calls. The visit to Frostick Elementary has been scheduled for May 15.
During the school visits, McKenzie staff took students through a mock injury situation, 9-1-1 call and first responder arrival. Students were able to see a demonstration of what would happen in the case of a fall, including dispatcher questions, ambulance arrival, transportation to the ER, and the follow-up visit at the doctor's office. Assisting with the visits were Sanilac County Central Dispatch, Sanilac County Sheriff Department, Sanilac EMS, Tri County Ambulance, Sandusky Police Department, Croswell Police Department Lexington Police Department, and other first responders joined McKenzie Health System for the visits.
"Students and staff really appreciated the demonstration and experience on how to prepare for a potential emergency at school or at home, and we were honored to collaborate with our amazing first responder community to provide a safer and more connected community for everyone who lives here," said Billi Jo Hennika, Chief Operating Officer at McKenzie Health System. "There is tremendous value in working with local schools to educate, encourage preparation for emergency situations, and to inspire the next generation of healthcare workers!"