McKenzie Health System awarded Acute Heart Attack Ready Re-Certification from The Joint Commission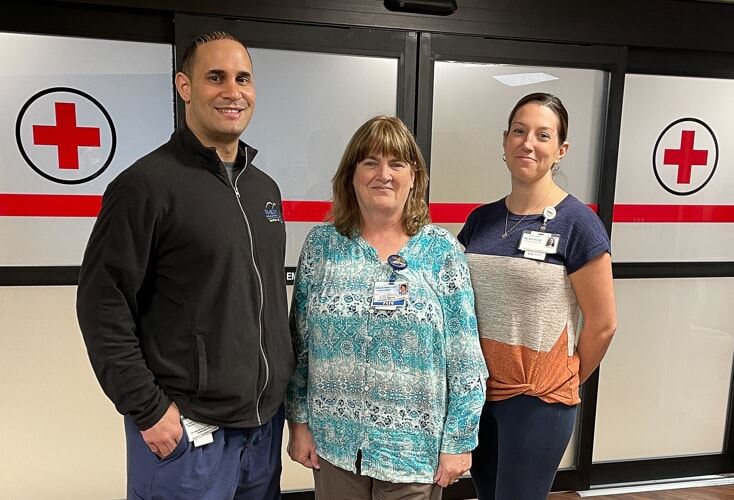 Photo (l to r): Mark Hamed, MD, MBA, MPH, FAAFP, Emergency Department and Trauma Program Medical Director; Konni Phillips, RN, Emergency Department Supervisor and Trauma Program Manager; and Rebecca Stoliker, BSN, RN, Director of Nursing Services.
Sanilac County, Mich. – McKenzie Health System has earned The Joint Commission's Gold Seal of Approval® and the American Heart Association's Heart-Check mark for Heart Attack Ready Re-Certification.
McKenzie Health System underwent a rigorous, unannounced onsite review on April 15, 2022. During the visit, a team of Joint Commission reviewers evaluated compliance with related certification standards including delivery of clinical care, program management, and performance improvement. Joint Commission standards are developed in consultation with health care experts and providers, measurement experts, and patients. The reviewers also conducted onsite observations and interviews.
"Heart Attack Ready Re-Certification recognizes health care organizations committed to fostering continuous quality improvement in patient safety and quality of care," says Mark Pelletier, RN, MS, chief operating officer, Accreditation and Certification Operations, and chief nursing executive, The Joint Commission. "We commend McKenzie Health System for using certification to reduce variation in its clinical processes and to strengthen its program structure and management framework for cardiac patients."
"We congratulate McKenzie Health System for this outstanding achievement," says Nancy Brown, chief executive officer, the American Heart Association. "This certification reflects its commitment to providing the highest quality of care for cardiac patients."
"I'm proud of the commitment our Emergency Department, and all the supporting members of the McKenzie Health System team, have made to practicing evidence-based medicine with critical episodes of care," shared Steve Barnett, McKenzie CEO and President. "In addition to our recent re-certification by the Joint Commission as a Heart Attack Ready facility, we also hold certifications as a Level 4 Trauma facility, a HFAP Stroke Ready facility, and a Level 3 Geriatric Emergency Department. We at McKenzie Health System believe that demonstrating competency by going through these rigorous certifications is appropriate for the community we care for."
Charts were reviewed for timeliness of interventions including assessment, EKG, medication administration, reassessment, and transfer to PCI capable facility when indicated. Educational requirements, patient satisfaction scores, community education efforts, and more were presented and evaluated.
For more information, please visit https://www.jointcommission.org/. To learn more about McKenzie Health System, visit www.McKenzieHealth.org.