McKenzie Health System Foundation Raises Funds for New Ambulance
Thanks to the overwhelming support from our local community, the McKenzie Health System Foundation has raised the funds needed to purchase a new ambulance, with plans for a second in the works. Sanilac County has the largest landmass in the Lower Peninsula and, with an average of 2,600 ambulance calls per year and runs easily exceeding 250 miles, a new ambulance was quickly identified as a high priority for the newly formed Foundation. It is because of the commitment of Foundation members, and the positive response from the community, that the new ambulance has been purchased and is being prepared for service.
"We are extremely grateful to our community and to our generous donors for supporting emergency care and a thriving rural community," said Steve Barnett, CEO, and President of McKenzie Health System. "Our goal is to restore our ambulance fleet back to full force and you have helped us take a tremendous step in that direction."
With three ambulances in service and a fourth as a backup, McKenzie Health System averages six or seven ambulance calls per day; patient transfers comprise the majority of the calls and lead to extra miles on each ambulance. The second-newest ambulance is approaching 250,000 miles, so the next goal of the Foundation is to raise an additional $150,000 to replace one more ambulance.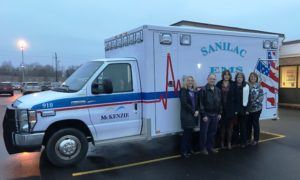 The McKenzie Health System Foundation officially launched in the spring of 2018 and Joan Nagelkirk graciously accepted the role of Foundation Chair and began working with others to form committees to carry out the mission.
The Executive Committee, responsible for the vision of the Foundation, is made up of the Foundation Chair and the Chairs of each of the 4 committees.
The Heart & Hope Committee is comprised of employees. Their pledges and donations were some of the first logged with almost 80% of employees participating, raising more than $30,000 in donations and pledges through the end of 2019. Wendy McBride, the Committee Chair, is joined by committee members Becky Cambridge, Heather Chambers, Melissa Govea, Nancy Kaufman, Kayla Keinath, Amanda Liccardello, Carly Mausolf, Jackie Pacheco, Kathy Stafford, Suzette Walker, & Morgan Western.
Penny Tubbs is the Chair of the Community Relations Committee and is joined by committee members Therese Stone, Missy Blashill, Erin Freiburger, Lori Freiburger, Katie Krueger, Carol Martino, Kim Norton, Deanna Stone, & Denise Ball.
Bob Hassler is the Committee Chair of the Circle of Friends Committee and his fellow committee members are Bill Dixon, Gary Heberling, Don Meissner, Loraine Reish, & Margaret Rhead.
Cornerstone Society Committee members Steve Ehardt, Doug Gorringe, Kim Rhead, Will Scarbrough, Carolyn Stoutenburg, & Eric Tubbs join Committee Chair Susan Dreyer on this important committee.
If you would like to learn more about the McKenzie Foundation and how you can get involved, call 810-648-6127 or visit www.mckenziehealth.org/about-us/foundation.