Dr. Mark Hamed named Medical Director of Sanilac County Health Department and Surrounding Area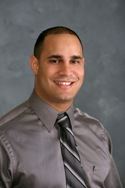 Mark Hamed, MD, MBA, MPH, Medical Director of the Departments of Emergency Medicine and Hospital Medicine at McKenzie Health System, was recently named Medical Director of the Health Departments of Sanilac, Tuscola, Huron and Lapeer counties as well as District Health Department #2 (Alcona, Iosco, Oscoda and Ogemaw counties). Dr. Hamed will maintain his role at the hospital, which he has held since 2011, and will also continue as Associate Medical Director of the Sanilac County Medical Control Authority.
Elected earlier this year as Vice President of the Michigan Academy of Family Physicians, Dr. Hamed brings significant leadership experience as well as a dedication to public health to this new multi-county role. He will be taking over for Dr. Russell Bush, who is retiring from the position.
"Steve Barnett, the CEO and President of McKenzie Health System, has been a major motivator for me, helping me understand more about rural healthcare and the unique challenges of population health management in the area," Dr. Hamed said. "To work with a healthcare leader of this rare caliber has been an amazing and educating experience. It will be an honor to serve the community in this expanded capacity."
Dr. Hamed and Barnett worked together to establish Michigan's first Oxy-Free Emergency Department in 2013 in response to the growing opioid epidemic; since that time, both prescriptions for opioids and overdoses have decreased. The duo recently shared their insights with a national rural health group in Washington, D.C. about this issue.
"We greatly appreciate the innovation and dedication Dr. Hamed has brought to his roles within our organization and are confident he will do a tremendous job of representing our county and others in this well-deserved new position," Barnett said.
Serving as an advocate for rural Michigan on a local, regional and national level, Dr. Hamed has also met with legislators throughout the country to discuss health issues affecting local communities. He is a member of the National Rural Health Association and previously served as National Rural ACO Medical Director.
Dr. Hamed will work with Sanilac County Health Department Manager Bryant Wilke to further address county healthcare needs and will mentor with Dr. Annette Mercatante, Medical Health Officer at St. Clair County Health Department, who he's previously partnered with to approach the opioid epidemic in rural communities.