Here's How to Feel Happier This Summer
Category: LiveSmart
Posted On:
Written By:

Baldwin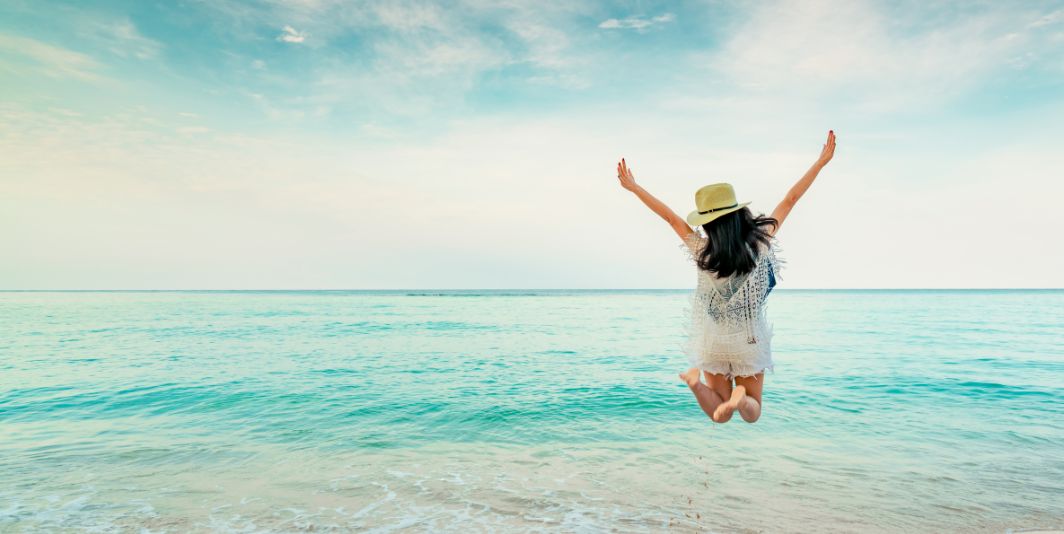 These benefits of the season may help you feel better mentally and physically.
As the weather warms and the days grow longer, do you notice your mood lifts and you feel better? There are many reasons summertime can make you feel happier and healthier. After all, nothing beats the sun on your face, a cool breeze rustling through the grass and the sound of crickets chirping in the distance.
Ready to take advantage of the health and mood-boosting benefits of the season? Here are some tips to make the most of what summer has to offer:
Soak up the sunshine. Summer is a great time to heed Sheryl Crow's advice and soak up the sun. About 200 million Americans don't get enough vitamin D, also known as the "sunshine vitamin." This vitamin is important for cell growth and immunity. It also helps your body absorb calcium for bone health and encourages serotonin production, which boosts mood. Many people with depression have low vitamin D levels, and increasing your levels may help you feel better. Spending at least 15 minutes outdoors each day can help you get the vitamin D you need. Just don't forget sunscreen to protect your skin from the sun's harmful rays. You'll still reap the benefits of the sun, but without the painful burn the next day!
Enjoy active pursuits. Downtime during the summer shouldn't be wasted on binge-watching your favorite TV show. Rather, it's the perfect time to get outside, enjoy the beautiful weather and get moving! There are many outdoor activities that are lots of fun and also great for your health. Biking, swimming, hiking and rollerblading all exercise your muscles and get your heart rate up. Taking a walk around the neighborhood is good for your body and your mind. You may find it's easier to sleep after a day of outdoor activity, which also helps keep you healthier and leaves you feeling more refreshed and energized the next day.
Eat more produce. Another great benefit of summer is the availability of fresh local produce. Not only are fruits and vegetables full of important nutrients that help boost your immunity, they're also low in calories, high in fiber and great for weight loss. Stop at your local farmer's market and pick up some zucchini, peppers, tomatoes and onions for veggie kabobs. Pick fresh strawberries at a local farm to enjoy for dessert. Take advantage of the local produce that's in abundance right now. It's a good way to get into the habit of eating more fruits and vegetables all year long.
Spend time with others. Many people find it's easier to socialize with others when the weather is milder and they can get together outdoors. Ask a friend or family member to join you for a baseball game, picnic in the park, outdoor concert or friendly game of corn hole. Attend a block party or enjoy a community festival. Walk and talk with your neighbors. Socializing is great for your mental health—and when you turn it into an outdoor activity, you'll get the added mood-boosters of some fresh air and sunshine, too!
For more LiveSmart articles, visit www.McKenzieHealth.org/LiveSmart.
Copyright 2023 © Baldwin Publishing, Inc.  Health eCooks™ is a designated trademark of Baldwin Publishing, Inc. Cook eKitchen™ is a designated trademark of Baldwin Publishing, Inc. Any duplication or distribution of the information contained herein without the express approval of Baldwin Publishing, Inc. is strictly prohibited.
Date Last Reviewed: April 18, 2023
Editorial Review: Andrea Cohen, Editorial Director, Baldwin Publishing, Inc. Contact Editor
Medical Review: Perry Pitkow, MD
Learn more about Baldwin Publishing Inc. editorial policy, privacy policy, ADA compliance and sponsorship policy.
No information provided by Baldwin Publishing, Inc. in any article is a substitute for medical advice or treatment for any medical condition. Baldwin Publishing, Inc. strongly suggests that you use this information in consultation with your doctor or other health professional. Use or viewing of any Baldwin Publishing, Inc. article signifies your understanding and agreement to the disclaimer and acceptance of these terms of use.