3D Mammograms encouraged during Breast Cancer Awareness Month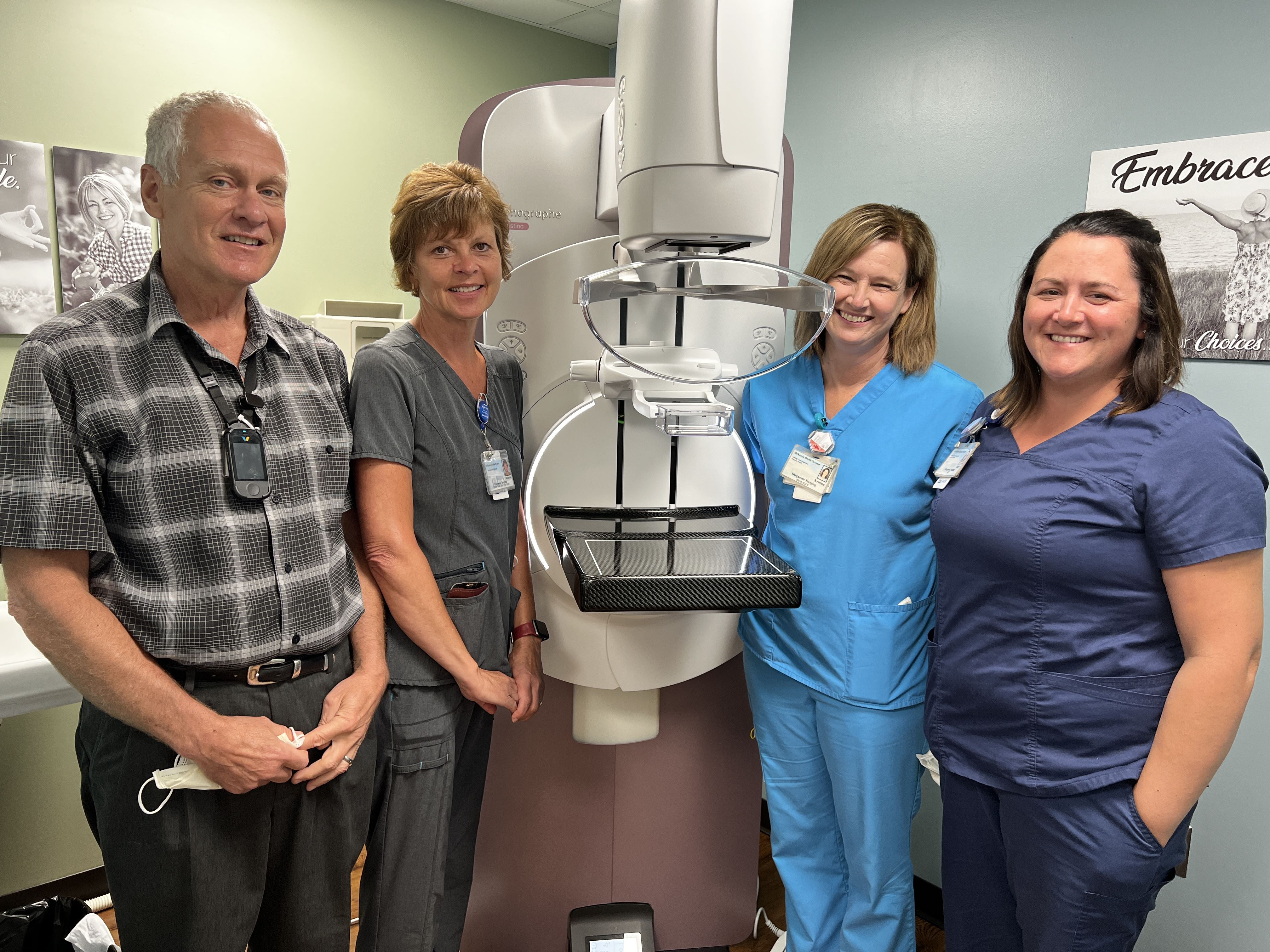 Pictured (l to r): Jay Smith, Director of Diagnostic Imaging and Cardiopulmonary; Melanie Smith, RDMS,RVT,RDMS, Registered Diagnostic Medical Sonographer; Kristine N. Hoskins, RT(R)(M)(CT)(ARRT), Registered Radiologic Technologist; and Brandy Noll, RT(R)(CT)ARRT, Registered Radiologic Technologist.
October is Breast Cancer Awareness Month and McKenzie Health System encourages all women to schedule their annual mammograms as recommended and continue to perform self-exams. Throughout the month of October, McKenzie will be offering low-cost mammograms to every woman in the area that is uninsured or underinsured. This is a great resource for anyone whose insurance does not cover routine mammograms to stay on top of their health and get potentially lifesaving testing!
McKenzie Health System provides access to the most advanced mammograms available. This 3D mammography technology, along with the latest in diagnostic software, provides a clearer and more complete picture, allowing very small abnormalities to be detected at an earlier stage. Patients should do research and ask questions before choosing a location for their mammogram as not all 3D mammograms are the same.
According to an American Cancer Society report posted to their www.cancer.org website on January 12, 2022, breast cancer death rates declined by 1% annually from 2013-2018 among women across the country. Early detection is the chief reason for this notable progress. Still, 1 in every 8 women in the United States will be diagnosed with breast cancer in her lifetime while only skin cancer is more prevalent in women. In 2022, breast cancer will represent close to one-third of all new cancer diagnoses for women.
"McKenzie strives to continue providing the best diagnostic mammograms for women, we encourage community members to take preventative measures against cancer and to schedule all of their annual appointments and screenings," shared Jay Smith, Director of Diagnostic Imaging and Cardiopulmonary at McKenzie Health System. "Early detection of all types of cancers can save lives."
Donations as well as a commitment from the McKenzie Health System Foundation and the McKenzie Health System Auxiliary spurred the upgrade to 3D mammography technology, or digital breast tomosynthesis, in 2019. In addition, McKenzie Health System invested in the advanced artificial intelligence-based computer detection software which assists radiologists by analyzing images to identify any suspicious spots that may likely be cancer.
Additionally, 3D mammography was designed to reduce discomfort by offering improved positioning and better lighting while also making the process easier for radiologists and technicians. Early detection is crucial to treatment and survival rates.
Medicare and most insurance providers now cover the cost of 3D mammograms. For patients who are uninsured or underinsured, please contact McKenzie Health System to find out about available options. If you have questions or would like to schedule your 3D mammogram at McKenzie Health System, please call 810-648-6110. To learn more about 3D mammography and other diagnostic services available at McKenzie Health System, visit www.McKenzieHealth.org.