Surgical Care You Can Count On
A Leading Team of Surgical Specialists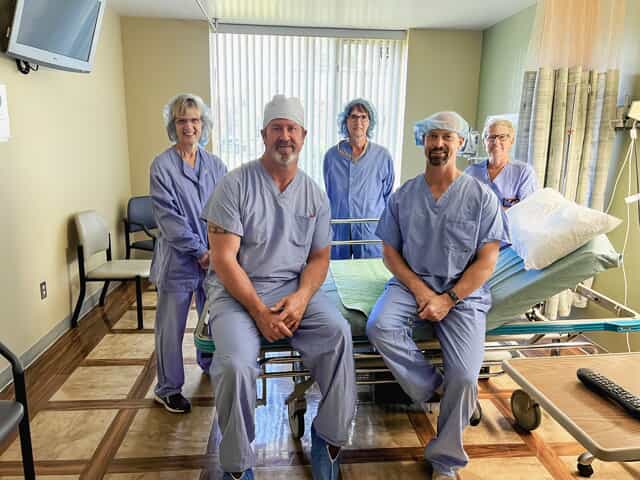 We understand that the idea of any type of operation or surgical procedure can make a patient feel a bit uneasy. At McKenzie Health System, our multi-disciplinary team of doctors are highly experienced in handling even the most complex surgical procedures –and our caring and compassionate team is dedicated to providing high-quality care through every stage of your treatment.
Our advanced technologies and innovative surgical care techniques provide patients with state-of-the-art treatment. As a one-stop-shop for your health and wellness needs, we provide both inpatient and outpatient treatment options, as well as rehabilitation services.
To learn more about our surgical services or consult with a member of our team, contact McKenzie Health System today at 810-648-3770.
Comprehensive Surgical Solutions
At McKenzie Health System, our surgical specialists utilize techniques that are as minimally invasive as possible. Our goal is to help your body recover faster following your procedure. There are many areas of focus that our team members specialize in, including:
Advanced Laparoscopic Surgery
Gynecology
Podiatry
Upper GI Endoscopy
Lower GI Endoscopy
It is important to note that this is not a comprehensive list of procedures we provide. If you have questions about another surgical service you may need, please don't hesitate to give us a call and consult with a member of our team.
What Does a Surgical Specialist Do?
As defined by the American College of Surgeons, a surgical specialist is someone who is an expert in diagnosing, treating, and managing conditions as they relate to operative care. This involves anything from pre-operative to post-operative procedures, including rehabilitation services and continued check-ins.
It is likely your surgeon will conduct preliminary diagnostics to verify and assess the injury or condition in question before designing your surgical treatment plan. Your surgical care team might also include additional doctors who specialize in your condition and can prescribe further treatment options to aid in your procedure. Depending on the treatments prescribed to you, you may be referred to one or more of our additional locations, allowing our specialists to provide you with any treatments you may need in-house, instead of referring you to another clinic.
Once your surgical plan has been designed, your multi-disciplinary team of doctors will work together to provide you with the necessary treatment, support, and education to help you prepare, undergo, and recover from your procedure. Your surgeon will thoroughly outline any post-operative and/or rehabilitative care that will be necessary following your operation.
No-Fear Procedures
At McKenzie Health System, we want our patients to feel comfortable and safe before undergoing any sort of surgical procedure. That's why our compassionate and caring team makes it a habit to provide patients with whatever they may need to feel both physically and mentally at ease prior to their operation.
If you ever have any questions or concerns throughout your treatment journey, our dedicated team of medical professionals is here to assist you. For surgical care you can count on, call McKenzie Health System at 810-648-3770. Schedule your consultation today!