McKenzie Health System Welcomes Registered Dietitian Kristina Myers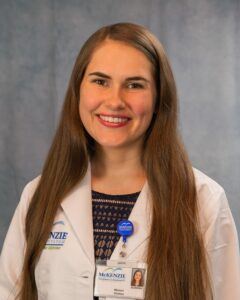 Registered Dietitian Kristina Myers has joined McKenzie Health System to share her "passion for helping people achieve their health goals." Through the organization's diet and nutrition services, Myers offers nutrition education and diet counseling focused on disease prevention and management as well as personalized nutrition services.
"We know that what we eat can make a profound impact on our overall health, and we are thrilled to have Kristina available to provide our nutrition and wellness services," said Rebecca Harris, Director of Clinical Support Services at McKenzie Health System. "Whether you are looking to manage a current condition or simply improve your nutrition, she can help you make more sustainable, healthy choices."
Born in Russia and raised in Cuyahoga Falls, Ohio, Myers recently relocated to Sanilac County, where she is enjoying the farmer's markets and country view. She also enjoys nature, walking, biking, "anything that gets me out of the house" as well as baking, cooking and watching movies. Not surprisingly, she is "also a big foodie." Myers received her Associate of Science degree from the College of Applied Science and Technology at The University of Akron, and her Bachelor of Science in Dietetics from the College of Health Professionals at The University of Akron.
"My childhood is what ultimately led me to choose my career path in the hope of helping. My father and I would have to go dumpster diving to find food. When I was adopted, I noticed some differences in food. I took a bite of a hotdog and instantly thought I ate a cup of salt. I also noticed the abundance of fast food and availability of food," Myers said. "We all have something in common: We eat. I want to help others achieve their health goals through education, motivation and counseling. I don't believe in fad diets and restrictions—life is about balance and moderation."
To schedule an appointment with Kristina, or to learn more about diet and nutrition services available through McKenzie Health System, please call 810-648-6150, ext. 410. Visit the McKenzie website at www.McKenzieHealth.org to see a full list of services.