McKenzie Health System Auxiliary Announces New Leadership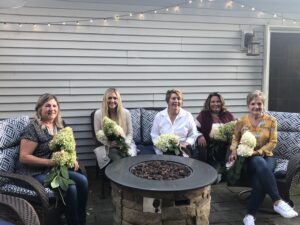 For over 5 decades the McKenzie Health System Auxiliary has shown support for the organization and the community through volunteer work on-site and raising money through events, fundraisers, and the McKenzie Gift Shop. Each fall Auxiliary members elect their leaders for the upcoming year.
The 2021-2022 McKenzie Health System Auxiliary Board consists of Emma Navarro and Kelsey Loding, Co-Presidents; Phyllis Chambers, Vice President; Margaret Jensen, Treasurer; and Audrey Essenmacher, Secretary. Appointed positions are Jo Derr, Gift Shop Manager; Carol Mitchell, Phone Tree Chair; Erny Doerr, Sunshine Chair; Lynn Fuller, Membership Chair; Phyllis Chambers, Historian; Shari Phipps, Parliamentarian/Legislative Chair; and Rebecca Cambridge, McKenzie Health System Employee Liaison. Public Relations and Foundation Manager Nina Barnett serves as the McKenzie Health System Liaison for the Auxiliary.
"The dedicated community members that volunteer on the Auxiliary donate their time and talent to serve our hospital, our staff and our community," said Nina Barnett. "We are so grateful for Becky Cambridge serving as the president and leader of this group for 3 years and for all of the members as they have worked together to support the mission."
Founded in 1967, the MHS Auxiliary is comprised of individuals that volunteer thousands of hours. Members donate their time and talents for the benefit of the hospital, working in the gift shop, providing support at community events and coordinating fundraising opportunities. For more information about volunteering, contact Nina Barnett, MHS Auxiliary Liaison, at 810-648-6127 or nbarnett@mckenziehealth.org. For membership information, contact Lynn Fuller, MHS Auxiliary Membership Chair, at 810-648-6150 (ext. 366) or lfuller@mckenziehealth.org.