McKenzie Gastroenterology Clinic Opens in Sandusky
Category: Staff
Posted On: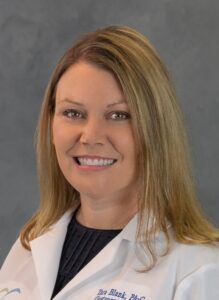 McKenzie Health System is pleased to announce the addition of a new gastroenterology clinic. McKenzie Gastroenterology, which opened in Sandusky on September 27, will focus on the diagnosis and treatment of the digestive tract in adults, as well as being committed to colon cancer screening and prevention. In particular, the clinic specializes in treating conditions such as inflammatory bowel disease (ulcerative colitis and Crohn's disease), irritable bowel syndrome (IBS), celiac disease, gastroesophageal reflux disease (GERD), hepatitis and other diseases of the liver and GI tract.
The clinic will be staffed by provider Tara Blank, PA-C. Blank was born and raised in Sandusky. Tara has a number of years of experience in the field of gastroenterology and cared for patients in Sandusky alongside Dr. Nasr for a number of those years. She is excited to be returning to care for her community. Tara received both her undergraduate and graduate degrees from Central Michigan University and has been Nationally Board Certified since 2001.
"With 20 years of experience in Gastroenterology and a love for her hometown, Blank is a wonderful addition to McKenzie Health System," shared Billi Jo Hennika, Chief Operating Officer. "Her familiarity with and love for our community makes her an incredible asset to McKenzie Health System. It is always wonderful to have someone from the area return to provide care."
Services available at this clinic include diagnosis and treatment of a variety of gastrointestinal issues including changes in bowel habits, rectal bleeding, abdominal pain, bloating, heartburn and difficulty swallowing.
Issues of the GI tract can be frustrating and painful for patients. Depending on the issue at hand, Blank can order a scope to be done at McKenzie Health System-Hospital Campus. The procedure will be performed by surgeon Dr. John M. Macksood, DO, FACOI. During the scope, he can look for things such as bleeding, inflammation, tumors and ulcers. Dr. Macksood received his Doctorate degree from Michigan State University's College of Osteopathic Medicine.
Patients who need a gastroenterologist can request a referral to McKenzie Gastroenterology. To learn more or schedule an appointment, call 810-648-0568. McKenzie Gastroenterology is located at 115 Delaware Street in Sandusky. Visit www.McKenzieHealth.org to learn more about McKenzie Gastroenterology and other clinics available at McKenzie Health System.