Change 4 Life 5K Planned for October 6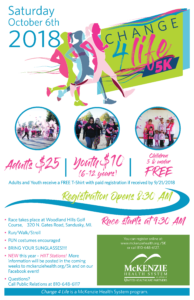 With a focus on community health and wellness, McKenzie Health System is proud to host its annual fun run, the Change 4 Life 5K, on October 6 at Woodland Hills Golf Course, 320 N. Gates Road in Sandusky. Individuals and families can walk, run and stroll – fun costumes are welcome – to show support for having a healthier community.
The 5K winds throughout the golf course assuring plenty of relaxing nature to see along the way. Stations will be strategically placed providing different colors of chalk flying and a glitter finish line at the end. New this year will be the HIIT (high-intensity internal training) stations where trainers will lead bonus exercises such as squats, jumping jacks or knee raises. The chalk, glitter and HIIT stations will all be optional. Previously called Pink Up the Pace 5K, this year's race is sponsored by McKenzie's Change 4 Life Support Group, which wanted to promote community health through this special event. Registration opens at 8:30 a.m. and the race begins at 9:30 a.m.
"Put on your favorite costume, show your support for your community and participate in the most enjoyable run or walk around," said Suzette Walker, Change 4 Life Group Founder and Nurse Practitioner at McKenzie Health and Wellness Center in Sandusky. "Once again, we are proud to promote health and wellness in a terrific event that is open to anyone, regardless of age or ability. Grab your sunglasses and please join us for another unforgettable 5K in October!"
Registration for adults is $25, youth (ages 6-12) is $10, and children (5 and under) are free. All race participants who sign up by September 21 will receive a free event t-shirt. Online registration is available at www.mckenziehealth.org/5k and questions can be directed to 810-648-6117.