McKenzie Autumn Benefit Features "Crime and Pun-ishment" Murder Mystery on Nov. 3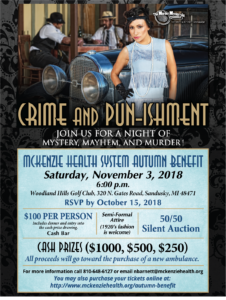 Will you be able to solve the mystery? That's what attendees at McKenzie Health System's Annual Autumn Benefit will determine during the murder mystery "Crime and Pun-ishment" event on November 3rd. A "night of mystery, mayhem and murder" will feature 1920s fashion, a 50/50 drawing, cash prizes of $1,000, $500 and $250, in addition to a full range of fabulous silent auction prizes. Guests will enjoy great food and fun with all proceeds going toward the purchase of a new ambulance.
"We have the mission of caring for the health of our community 24 hours a day, 7 days a week, 365 days a year, and the financial limitations as a nonprofit organization in the world of healthcare are challenging, to say the least. That's why philanthropy is so critical and can be such a game-changer in achieving our mission," said McKenzie Health System President and CEO Steve Barnett. "We truly appreciate the support and partnership of our local community, which allows us to provide the best care possible."
The Autumn Benefit will take place at 6 p.m. at Woodland Hills Golf Club, 320 N. Gates Road in Sandusky. Attendees will follow clues to determine "whodunit" along with actors from the Murder Mystery Co. The mystery "criminal" will be revealed, along with silent auction, 50/50, and cash prize winners at the end of the evening.
Sponsorships of all levels, and individual tickets which cost $100, are still available and can be secured by contacting Nina Barnett at 810-648-6127 or purchased at www.mckenziehealth.org/autumn-benefit.