What to Expect at Physical Therapy
Category: LiveSmart
Posted On:
Written By:

Baldwin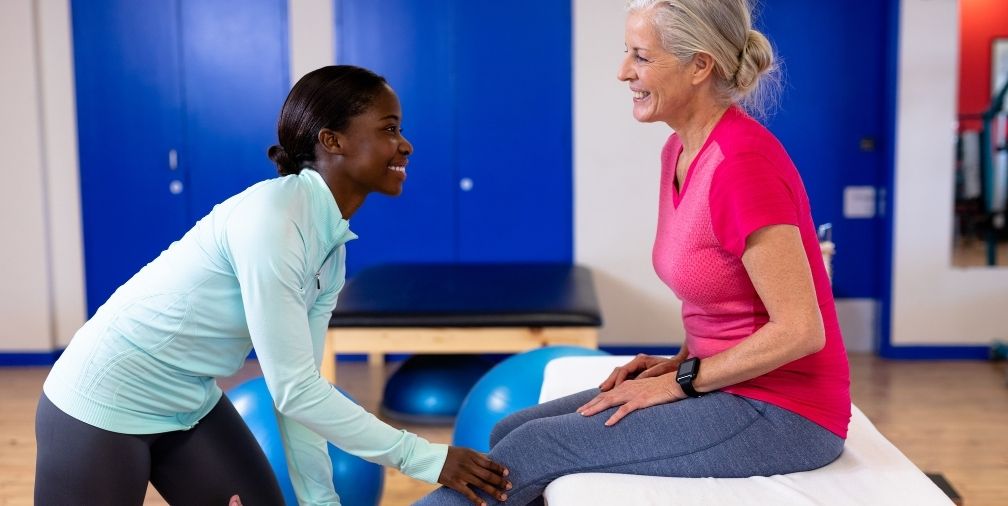 About to get started with PT? Here's what you can expect at your first appointment.
Physical therapy (PT) is often recommended to help people recover following injury or surgery. The specifics of what will happen during PT are individualized for each person and will vary based on a number of factors. Knowing how to prepare and what to expect when you begin therapy will help you get the most out of the experience.
How to Prepare for Your Appointment
Before you even walk in the door for your first appointment, here are a few things to keep in mind:
Come dressed to move. Physical therapy involves a good deal of movement, so come dressed for comfort. Wear clothing that is easy to move around in and that provides easy access to the areas treatment will focus on. Some PT practices have changing rooms, but not all do. It's best to come dressed for therapy. If you're coming straight from work or can't get dressed before you arrive, call and ask if there is a place you can change.
Be ready to discuss your health and condition. During your first PT appointment, your physical therapist will spend time discussing your current condition and understanding your health history. He or she will also want to talk about how your condition is affecting your life. Be prepared to discuss details, such as when the problem began, what symptoms you have, what makes symptoms better or worse, what surgeries or other procedures you have had, what health conditions you have that may affect treatment or recovery, what medications you take, as well as what you hope to achieve during therapy.
Bring information that may be needed. If you have imaging studies that were already taken of the affected area, bring them with you or have them sent so they can be reviewed. Bring your insurance card and driver's license or other identification. You may also need a prescription from a doctor, depending on your insurance.
What to Expect at Your First Appointment
In addition to spending time talking to the physical therapist about the details of your injury, you can expect the therapist to perform a thorough physical examination to assess your condition. During this exam, your range of motion, strength, balance and functional mobility will be evaluated. You may also undergo neurological or other tests.
After the evaluation is completed, your therapist will prepare a customized treatment plan. This plan will be discussed with you so you'll know what it entails and what the goals of treatment are. You'll also discuss how often you should have treatment and how many weeks you should expect PT to last. Your treatment plan may include activities that will be done during appointments, as well as exercises that will be prescribed for you to do at home. Therapeutic modalities, such as heat, electrical stimulation, massage, traction, joint mobilization, light therapy and ultrasound, may also be part of your treatment plan.
You may begin doing some therapy at your first appointment, depending on how much time is left. Otherwise, you will begin doing exercises and other therapies when you return for your next visit.
For more LiveSmart articles, visit www.McKenzieHealth.org/LiveSmart.
Copyright 2023 © Baldwin Publishing, Inc.  Health eCooks® is a registered trademark of Baldwin Publishing, Inc. Cook eKitchen™ is a designated trademark of Baldwin Publishing, Inc. Any duplication or distribution of the information contained herein without the express approval of Baldwin Publishing, Inc. is strictly prohibited.
Date Last Reviewed: August 18, 2023
Editorial Review: Andrea Cohen, Editorial Director, Baldwin Publishing, Inc. Contact Editor
Medical Review: Andrew Overman, DPT, MS, COMT, CSCS
Learn more about Baldwin Publishing Inc. editorial policy, privacy policy, ADA compliance and sponsorship policy.
No information provided by Baldwin Publishing, Inc. in any article is a substitute for medical advice or treatment for any medical condition. Baldwin Publishing, Inc. strongly suggests that you use this information in consultation with your doctor or other health professional. Use or viewing of any Baldwin Publishing, Inc. article signifies your understanding and agreement to the disclaimer and acceptance of these terms of use.