McKenzie Autumn Benefit Raises Over $50,000 with Kenny Rogers Tribute Events
Category: News
Posted On: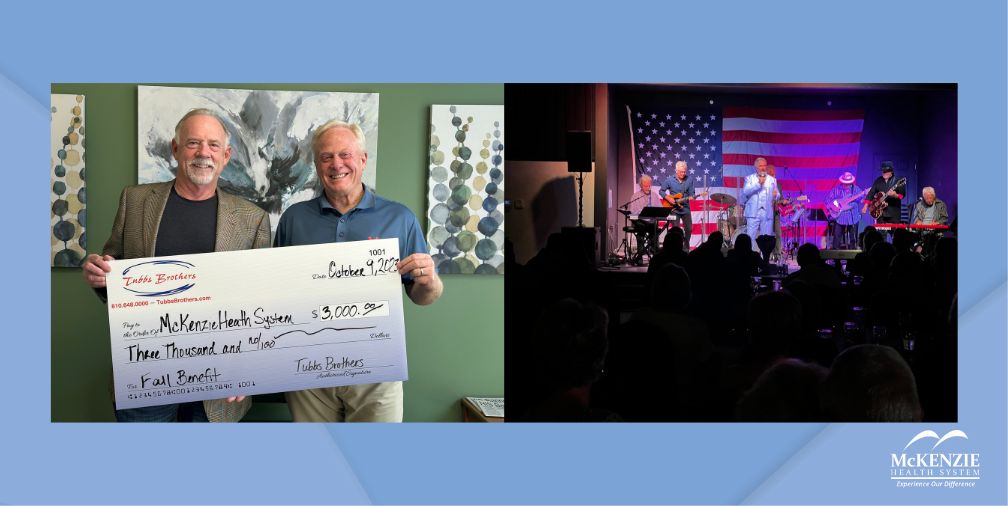 Dave Tubbs, Owner of Tubbs Brothers in Sandusky, presents their Autumn Benefit sponsorship check to Steve Barnett, McKenzie Health System President and CEO.
Saginaw County Sheriff Bill Federspiel and the Kenny Rogers Group perform during Friday night's Autumn Benefit event.
In its first-ever two-day benefit, the McKenzie Health System raised more than $50,000 through its recent Kenny Rogers Tribute Autumn Benefit. The proceeds of this year's benefit will support construction of the new McKenzie Health System hospital facility being planned in Sandusky.
The new hospital will be designed to deliver high-quality care throughout the Sanilac County region for decades to come, while offering superior technology and efficiency for staff and patients alike. McKenzie Health System decided to build the new facility from the ground up as it is the most cost-effective and efficient option and will provide ample space for future growth.
Featuring a dinner concert on the first night and an outdoor concert on the second, the Autumn Benefit welcomed the Kenny Rogers Group, the band that backed the legend for more than four decades, in a celebration for the ages. Both concerts shared the music of Saginaw Sheriff Bill Federspiel bringing Kenny's songs back to life, along with special guests Shirley Pratt, Edgar Struble, and members of the Kenny Rogers Group.
"The music was outstanding, the weather was beautiful, and everything came together for a wonderful weekend of celebration and entertainment," said Nina Barnett, McKenzie Health System Public Relations and Foundation Coordinator. "We are grateful to our generous sponsors and to everyone who came out for a great weekend of music, conversation, and fun."
Sponsors for the Autumn Benefit were:
· Platinum Sponsors: Hall, Render, Killian, Heath & Lyman P.C.; Sanilac Broadcasting; Stifel Investment Services; and Tubbs Brothers, Inc.
· Gold Sponsors: Albrecht Sand & Gravel Co.; Clear Ideas, Inc.; The Hamed Family; Highline; McKenzie Medical Staff; Moulton Financial Group; James Sams, M.D.; Sanilac County News & Buyer's Guide; Stoutenburg Farms; Al & Joanne Stoutenburg; Thumb Bank and Trust; and Tribune Recorder Leader
· Silver Sponsors: Campbell Farm Tiling; Kohler's Propane Co.; Sandusky Car Wash; Tri County Equipment; and Wipfli Financial Advisors LLC
· Bronze Sponsors: CBM Services, Inc.; Community First Title Agency; Coverys; Elite Overhead Doors, Inc.; F6 Trucking, LLC; Hasselschwert Consulting, LLC; Lackowski Hanson Long Group with Ameriprise; and Stoliker's Custom Designs
Dave Tubbs, owner of Tubbs Brothers, is just one of the generous sponsors who helped make this event a success. Dave also recently launched Gladiators Wear Pink, a fund that he started with the Sanilac County Community Foundation to support Sanilac County residents facing cancer and to bring awareness to cancer prevention and screening. They will be hosting the "Chilly Open" on October 28, a four-person 18-hole golf scramble for men's, women's and mixed teams, which will take place at Huron Shores Golf Club with proceeds benefiting Gladiators Wear Pink. The event will also include dinner and a blind-tasting chili competition following the scramble. Community members who are not part of the golf scramble are invited to come out between noon and 5:00 p.m. and enjoy some chili for a $10 donation. For sponsorship opportunities and questions, please contact 810-404-7801