Respiratory Therapist Goes Above and Beyond in Patient Care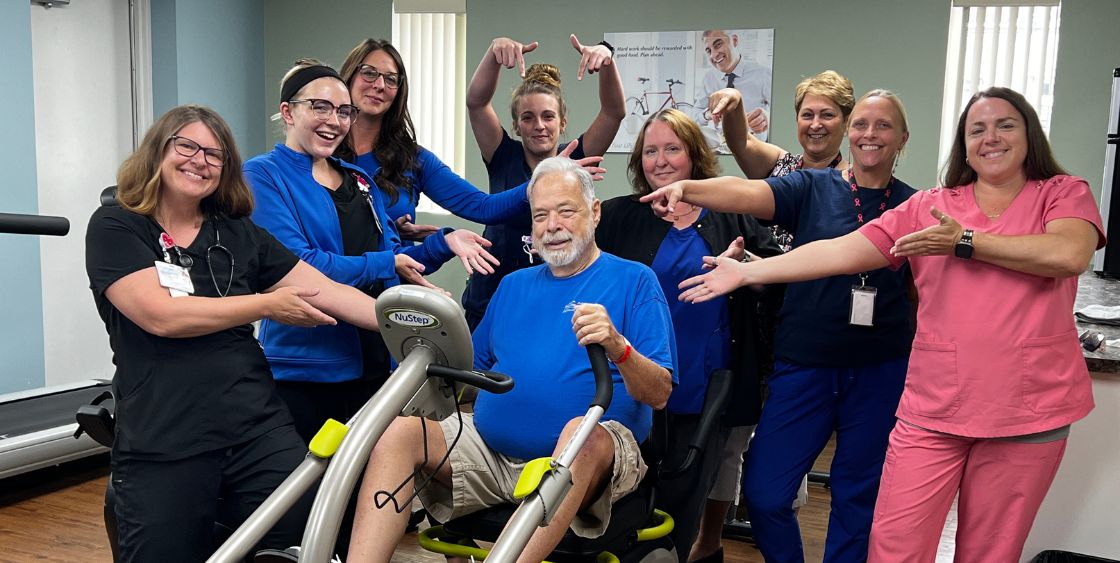 Harry Badrak has been enrolled in McKenzie Health System's Cardiac and Pulmonary Rehabilitation program since 2019. He is one of many patients needing support for chronic heart and lung diseases, including recovery from a heart attack, heart surgery, or other forms of the disease.
With easy access to McKenzie Health System's hospital campus, where the rehab program is located, Harry and so many others can conveniently and quickly get the rehab support they need by participating in a program that benefits patients from right after a cardiac event through recovery and for as long as the patient feels monitored physical activity is necessary.
Harry's story is unique. Years after suffering a heart attack, Harry had his third stent placed in his coronary arteries after his health issues returned. As part of his recovery, he enrolled in McKenzie Health System's Cardiac and Pulmonary Rehabilitation program, where he formed close friendships with staff and fellow patients.
Harry reported the improvement in his quality of life and was looking forward to a full recovery to get back to spending time with his grandchildren. He learned that cardiac rehab is one of the best things he can do for his heart following a cardiac event and was taught how to exercise safely, eat better, manage pain, stress, and medication, lose weight, and live a healthier life. Patients like Harry also benefit from the feeling that no one needs to face heart disease alone.
A few years later, Harry had surgery when doctors discovered prostate issues. After his urologist cleared him, he returned to Cardiac Rehab, where he began to build up his health and reconnect with his newfound community.
Without his knowledge, Harry was losing a lot of blood after his surgery. One day when he had parked his car and was about to enter the rehab facility, one of the cardiopulmonary assistants, Leslie, noticed he was struggling and caught him as he collapsed in the parking lot.
Harry was quickly brought into the building and immediately moved to the ER, where he received 2 pints of blood. The following week the same respiratory therapist noticed he was struggling again, and Harry ended up in the ER for a second time, receiving another pint of blood.
Harry has since returned to the cardiac rehab program, where everyone greatly missed him and vice versa. We are proud to report Harry is doing well and continues to work on his health in an environment where care is close at hand. Harry feels a bond with the rehab program and the staff, especially Leslie, who noticed his struggles in the parking lot and took immediate action. He looks forward to his twice-weekly visits, where he is very much part of a special community, always greeted by a smile from the Patient Access Services staff.
About McKenzie Health System Cardiac Rehabilitation Programs
Some of the most common aspects of the McKenzie Health System Cardiac Rehabilitation program include:
Teaching strategies to deal with high blood pressure, high cholesterol, smoking, obesity, diabetes, and inactivity
Developing a safe exercise routine that can be continued at home
Establishing a healthy diet, which promotes weight control and lowers cholesterol
Providing resources to help smokers conquer their habit
Demonstrating stress management and relaxation techniques
To learn more or sign up for cardiac or pulmonary rehabilitation at McKenzie Health System, please call 810-648-0577.