Quinoa Stuffed Peppers
Category: LiveSmart
Posted On:
Written By:

Baldwin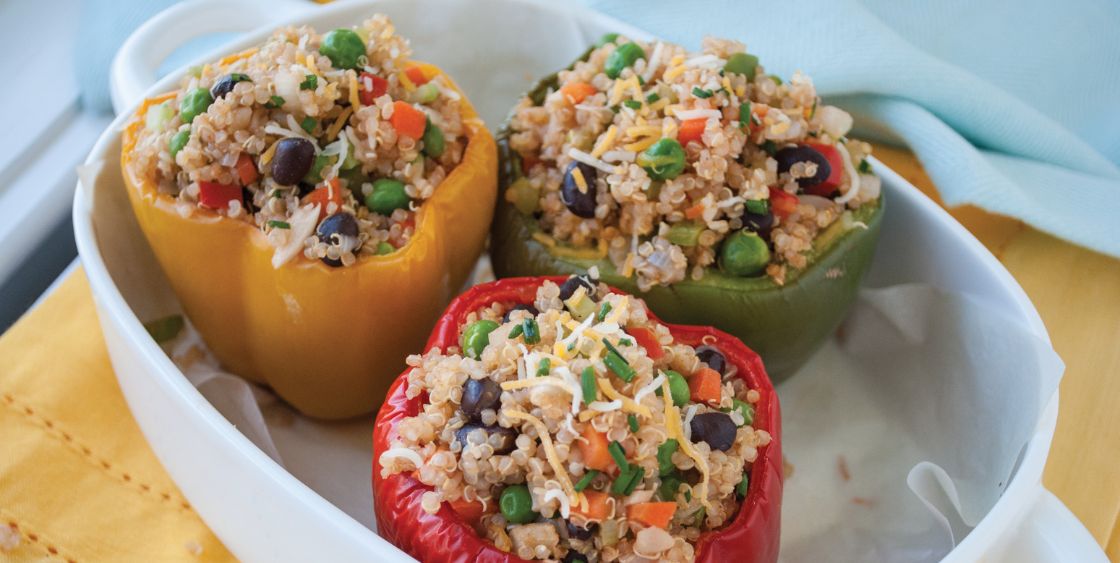 Serves 8 Diabetic Gluten Free Heart Healthy
If you're looking for a satisfying vegetarian meal, try these quinoa stuffed peppers.
Packed with quinoa, beans, carrots and peas, these gluten-free stuffed peppers are a hearty dinner entrée.
Ingredients
1 cup quinoa, uncooked

2 cups water

9 bell peppers, assorted colors

1 Tbsp olive oil

1 cup black beans, rinsed and drained

1 carrot, shredded

2 celery stalks, finely diced

1/2 onion, finely diced

3 garlic cloves, minced

1/2 cup diced water chestnuts

1/4 tsp onion powder

1/4 tsp garlic powder

1/8 tsp salt

Black pepper to taste

1 tsp ground cumin

1/8 tsp cayenne pepper

1/2 cup frozen peas

1/2 cup no salt added tomato sauce

1/2 cup shredded Monterey jack cheese or cheddar cheese

1/2 cup shredded Parmesan cheese

2 tsp hot sauce
Preparation
Preheat oven to 350°. Line a 13 x 9–inch glass baking pan with parchment paper.
In a saucepan, cook the quinoa in the water for 15 minutes, or until softened. Set aside.
On a flat work surface, with a sharp knife, cut the tops off 8 bell peppers. Remove the cores and seeds without cutting through peppers. Arrange the cored peppers, standing upright, in the prepared baking pan.
Chop the remaining bell pepper. In a large saucepan, heat the oil over medium heat until hot. Add the black beans, chopped bell pepper, carrot, celery, onion, garlic, water chestnuts, onion powder, garlic powder, salt, black pepper, cumin and cayenne pepper and cook until the vegetables are soft and mixture is heated through, about 7 minutes. Stir in the cooked quinoa, peas and tomato sauce.
Sprinkle 1 tablespoon of the Parmesan cheese into the bottom of each pepper. Fill peppers with the quinoa mixture. Sprinkle the tops of the stuffed peppers with the Monterey Jack cheese.
Bake the peppers for 30 minutes, covered with foil. Remove foil and bake 15 minutes more, or until peppers are softened and browned. Sprinkle with hot sauce, if using. Serve immediately.
Nutrition Facts
Serving size:
Per Serving:
Calories: 224; Fat: 7g; Saturated Fat: 2g; Cholesterol: 13mg; Sodium: 181mg; Carbohydrates: 28g; Fiber: 7g; Protein: 11g
For more LiveSmart articles, visit www.McKenzieHealth.org/LiveSmart.
Copyright 2016-2023 © Baldwin Publishing, Inc.  Health eCooks® is a registered trademark of Baldwin Publishing, Inc. Cook eKitchen™ is a designated trademark of Baldwin Publishing, Inc. Any duplication or distribution of the information contained herein without the express approval of Baldwin Publishing, Inc. is strictly prohibited.
Date Last Reviewed: February 6, 2017
Editorial Review: Judy Capodanno, Health eCooking Editorial Director, Baldwin Publishing, Inc. Contact Editor
Medical Review: Jane Schwartz, RDN, CLT
Learn more about Baldwin Publishing Inc. editorial policy, privacy policy, ADA compliance and sponsorship policy.
No information provided by Baldwin Publishing, Inc. in any article or in any Health eCooks® video, recipe, article and/or other Health eCooks® product or service is a substitute for medical advice or treatment for any medical condition. Baldwin Publishing, Inc. strongly suggests that you use this information in consultation with your doctor or other health professional. Use or viewing of any Baldwin Publishing, Inc. article or any Health eCooks® video, recipe, article and/or other Health eCooks® product or service signifies your understanding and agreement to the disclaimer and acceptance of these terms of use.