McKenzie Health System Launches February Walking Challenge for Community Health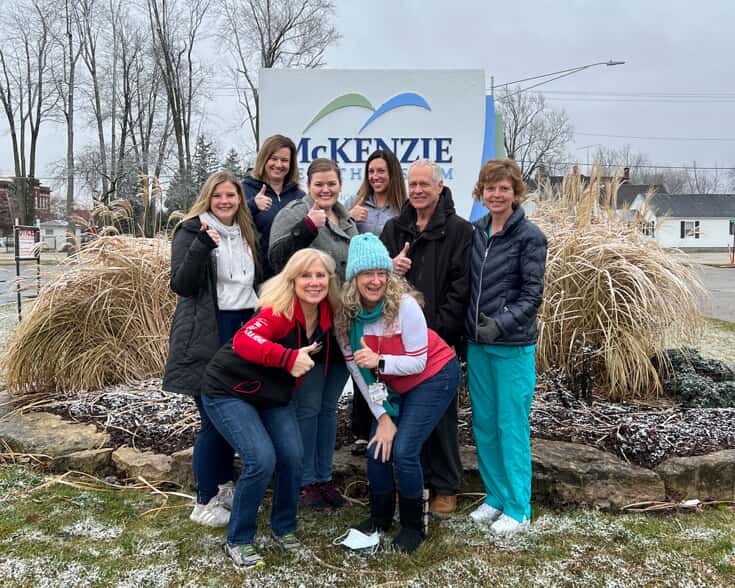 Photo: McKenzie Outreach Team Members (l to r) front – Gloria Jerome, Nina Barnett; back – Julia Flanagan, Kristine N. Hoskins, Emily Quandt, Rebecca Stoliker, Jay Smith, Melanie Smith.
Taking a step forward for community health, McKenzie Health System is hosting a Walking Challenge in February. A free challenge for community members and employees, the new challenge encourages everyone to get moving to support heart and lung health, manage various conditions, establish a healthy habit, and even live a longer life.
To enter, simply visit www.McKenzieHealth.org/GetMoving to download the tracking sheet. Since everyone is at a different place in their health and wellness journey, the Walking Challenge only requires recording minutes walked per day as recommended. Tracking sheets can be submitted a variety of ways, which are detailed on the website and Facebook event, on or before March 5. On March 6, two $50 gift card winners will be randomly drawn: one from the community participants and one from McKenzie Health System employee participants. Winners will be notified and announced on the McKenzie Facebook page.
"Walking is one of the simplest and most effective exercises we can do, and it's terrific for the body and mind," said Nina Barnett, McKenzie Health System Public Relations and Foundation Coordinator. "During these colder, darker winter months, we wanted to encourage both our team and our community to move more. You can walk outside, at a gym, up and down your stairs, or anywhere else that works for you. We hope this helps people establish a healthy habit going forward—even a few minutes a day can make a big difference."
To learn more or download the tracking sheet, please visit www.McKenzieHealth.org/GetMoving.