McKenzie ENT in Sandusky Welcomes Dr. Keith Scharf and Dr. Angela Lasecki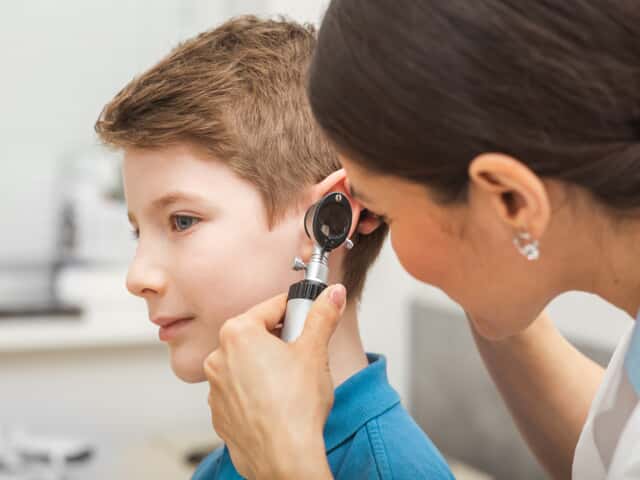 McKenzie Health System is pleased to announce that Dr. Keith Scharf, a board-certified otolaryngologist, and audiologist Dr. Angela Lasecki have joined McKenzie ENT to provide ear, nose, and throat care along with audiology services beginning in February. Dr. Scharf will also perform surgical procedures at McKenzie Health System – Hospital Campus such as tonsillectomies, adenoid removal, septoplasty, ear tubes, and sinus surgery. Providing these procedures locally allows patients to stay close to home. A more complete list of procedures is available on the McKenzie website. Clinic appointments for both Dr. Scharf and Dr. Lasecki will be available at McKenzie ENT in Sandusky.
Dr. Scharf specializes in the diagnosis and treatment of all ear, nose, and throat disorders. He joined the Valley ENT Associates, P.C. team in 1995 when moving from New York. He received his Doctorate of Medicine (MD) from Mount Sinai Medical School in New York and obtained his Masters of Science in Physiology from the University of Connecticut. He completed his residency at Mount Sinai Medical Center. As a Lang Book Award recipient for Clinical Excellence and a member of Alpha Omega Alpha Honorary Medical Society, Dr. Scharf is committed to providing advanced and innovative treatment methods for his patients. He also teaches as an Associate Professor in the surgical department at Michigan State University.
Dr. Lasecki earned her Bachelor of Science degree in Psychology with a minor in Communication Disorders from Central Michigan University, followed by her Doctor of Audiology degree from Wayne State University. She currently works at Bieri Hearing Specialists in Saginaw and Frankenmuth and is looking forward to providing services in the thumb through McKenzie ENT. Services provided include hearing tests and evaluations. Her goal is to provide exemplary hearing healthcare and to improve patients' quality of life. A lifelong Sanilac County resident, Angela enjoys spending time with family and friends, crocheting, and spending time with her dog, Cash.
Appointments for both Dr. Scharf and Dr. Lasecki are available beginning in February and can be scheduled by calling 810-648-6115. McKenzie ENT is located at McKenzie Health Plaza, 115 Delaware Street in Sandusky. For more information about surgical and specialty health services offered by McKenzie Health System, visit www.mckenziehealth.org.