Is an Over-the-Counter Hearing Aid Right for You?
Category: LiveSmart
Posted On:
Written By:

Baldwin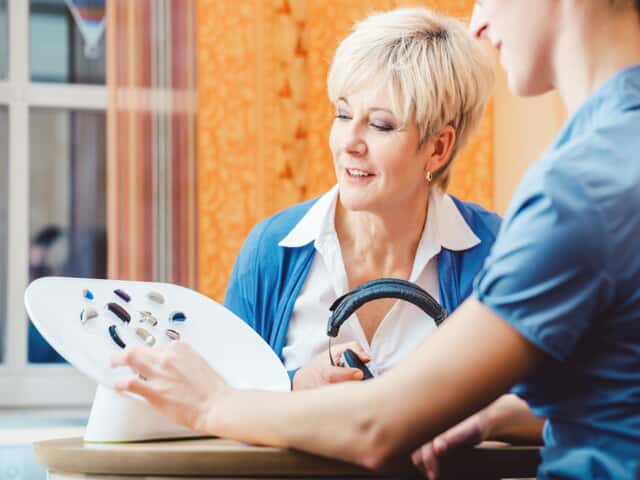 There's no reason to live with hearing loss with so many options available to help you hear better.
Hearing loss is common as you age, but there's no reason to have to live with it. With so many hearing aid options, it's easy to find a style you feel comfortable wearing so you don't miss out on the sounds around you. In fact, you don't even need to go to a hearing specialist to get a hearing aid if you don't want to. There are now many over-the-counter devices available that can improve your hearing.
What Hearing Aids Do
Hearing aids improve your hearing by making sounds louder so it's easier to hear them. Small microphones gather the sounds from the environment and amplify them. The sounds are adjusted based on your level of hearing loss and the other sounds around you. Then the amplified sounds are delivered to your ears through tiny speakers, called receivers.
Over-the-Counter vs. Prescription Hearing Aids
Until recently, you needed to go to a hearing specialist or health professional to get a prescription for hearing aids. But over-the-counter hearing aids are now available in stores and online, making them more affordable and accessible. You fit them yourself and don't need to have a hearing exam or prescription. These hearing aids are for adults with mild to moderate hearing loss. If you have more severe hearing loss, they may not work well enough so you may still need a prescription hearing aid.
Types of Hearing Aids
Some people are reluctant to get hearing aids for two main reasons: they think they're too expensive or too noticeable. The introduction of over-the-counter hearing aids will give some people a less expensive option that still helps them hear better. Depending on your level of hearing loss, you may be able to wear a hearing aid that isn't that noticeable. Even if you can see it, the benefits of hearing better often far outweigh any negative aspects of wearing a hearing aid.
These are some common types of hearing aids:
In the canal – These are very small and barely visible to others. They can improve mild to moderate hearing loss but the features may be difficult to adjust due to their small size.
In the ear – These sit in the bowl-shaped area of your outer ear. They are more visible than ones in the ear canal, but have more features and may help more severe hearing loss.
Behind the ear – These rest behind your ear, with a tube or wire that connects to an earpiece in your ear canal. They often have the most features and can be used by anyone, no matter what type of hearing loss they have.
Signs You May Need a Hearing Aid
If you're not sure you're ready for a hearing aid, consider whether any of the following statements describe you. If they do, it may be time to consider a hearing aid.
You get irritated at others for mumbling or you have to ask people to talk louder, speak more slowly or repeat what they said.
You have trouble following conversations when you're in a group, a noisy area or on the phone—or if you can't see someone's lips moving.
Everyone tells you to turn down the TV or music.
You don't get jokes like you used to or don't remember things people tell you.
For more LiveSmart articles, visit www.McKenzieHealth.org/LiveSmart.
Copyright 2022-2023 © Baldwin Publishing, Inc.  Health eCooks™ is a designated trademark of Baldwin Publishing, Inc. Cook eKitchen™ is a designated trademark of Baldwin Publishing, Inc. Any duplication or distribution of the information contained herein without the express approval of Baldwin Publishing, Inc. is strictly prohibited.
Date Last Reviewed: November 18, 2022
Editorial Review: Andrea Cohen, Editorial Director, Baldwin Publishing, Inc. Contact Editor
Medical Review: Perry Pitkow, MD
Learn more about Baldwin Publishing Inc. editorial policy, privacy policy, ADA compliance and sponsorship policy.
No information provided by Baldwin Publishing, Inc. in any article is a substitute for medical advice or treatment for any medical condition. Baldwin Publishing, Inc. strongly suggests that you use this information in consultation with your doctor or other health professional. Use or viewing of any Baldwin Publishing, Inc. article signifies your understanding and agreement to the disclaimer and acceptance of these terms of use.