How Your Gut Health Affects Your Whole Body
Category: LiveSmart
Posted On:
Written By:

Baldwin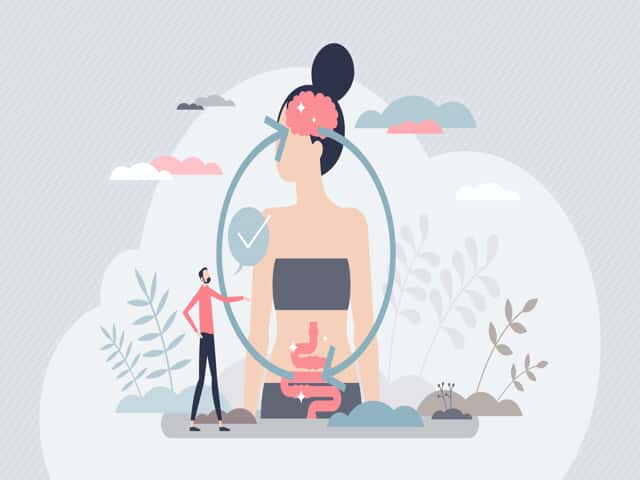 You may be surprised by how your digestive health affects your physical and mental health.
There are tens of trillions of bacteria in your gut. In fact, there are more bacteria within your digestive tract than there are cells in your body. Some of this bacteria are necessary for good health, while others can be harmful to your body and mind. This collection of bacteria, often referred to as the gut microbiome, affects just about every aspect of your health in some way.
How Your Gut Affects Your Health
Of course, what happens in your gut affects conditions related to your digestive system. If your microbiome is off, you may experience symptoms such as bloating, gas, diarrhea or constipation. Or you may have chronic conditions like irritable bowel syndrome, diverticulitis, ulcerative colitis, Crohn's disease, malabsorption or gastroesophageal reflux disease (GERD), among others.
But there has been extensive research done over the past few decades indicating that gut health affects far more than what goes on in your digestive tract. In fact, it may have an impact on almost everything from your heart to your mental well-being. Gut health has been linked to conditions such as:
Autoimmune diseases
Endocrine disorders
Cardiovascular disease
Cancer
Mental health disorders
Immune function
Obesity
Signs of Poor Gut Health
You may have an occasional bout with a digestive disorder, such as a stomach bug or a reaction to something you ate. But if your gut microbiome is off, signs and symptoms will be more chronic, or they may come and go.
Some signs that your gut health isn't optimal include:
Gas/bloating
Heartburn/acid reflux
Abdominal pain
Nausea
Constipation
Diarrhea
Unintentional weight changes
Food intolerances
Fatigue
Skin irritation
Inflammation
Tips for Improving Gut Health
In addition to your gut health affecting nearly every aspect of your physical and mental health, it is also affected by many things you do. Improving your gut health may start with changing what you eat, but there are also other things you do that can have an impact on your microbiome. Here are some ways you may be able to improve your gut health:
Eat a variety of healthy foods
Stay hydrated
Exercise regularly
Reduce stress
Get enough quality sleep
Limit use of antibiotics
Prebiotics and probiotics may help improve your gut health. Include fermented foods in your diet, such as yogurt, kimchi, kefir and miso, to boost the number of good bacteria in your gut. Eat more whole plant-based foods that have lots of fiber, such as vegetables, fruits, whole grains, beans and nuts. It's also a good idea to limit sugar and artificial sweeteners.
For more LiveSmart articles, visit www.McKenzieHealth.org/LiveSmart.
Copyright 2022-2023 © Baldwin Publishing, Inc.  Health eCooks™ is a designated trademark of Baldwin Publishing, Inc. Cook eKitchen™ is a designated trademark of Baldwin Publishing, Inc. Any duplication or distribution of the information contained herein without the express approval of Baldwin Publishing, Inc. is strictly prohibited.
Date Last Reviewed: November 18, 2022
Editorial Review: Andrea Cohen, Editorial Director, Baldwin Publishing, Inc. Contact Editor
Medical Review: Perry Pitkow, MD
Learn more about Baldwin Publishing Inc. editorial policy, privacy policy, ADA compliance and sponsorship policy.
No information provided by Baldwin Publishing, Inc. in any article is a substitute for medical advice or treatment for any medical condition. Baldwin Publishing, Inc. strongly suggests that you use this information in consultation with your doctor or other health professional. Use or viewing of any Baldwin Publishing, Inc. article signifies your understanding and agreement to the disclaimer and acceptance of these terms of use.