McKenzie to Celebrate American Heart Health Month
Heart disease is the leading cause of death for both men and women, with 1 in 4 being attributed to the ailment. To prevent heart disease and increase awareness of its effects, McKenzie Health System is proudly participating in American Heart Month.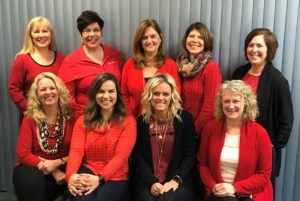 Thanks in part to the McKenzie Health System Women's Health and Wellness Fund, during the month of February women can take advantage of Cardiac Calcium Scoring for $55. This test, which helps us identify heart disease even when there are no symptoms, can be scheduled by calling 810-648-6179.
The Go Red Ladies Night event will be held on February 22, 2019, from 5:30-8:00 p.m. at Woodland Hills Golf Club in Sandusky. The evening, which is being sponsored by McKenzie Health System and the McKenzie Health System Foundation, will include special discussions on "Organizing for Life" by Connie Kramer of Integrit Cleaning & Organizing Service and "Be Good to Your Heart" from Nurse Practitioners Brandy Trepkowski and Suzette Walker. Tickets cost $10 in advance and $15 at the door and can be purchased at the McKenzie Hospital Campus main desk, in the McKenzie Gift Shop, at Sanilac Pharmacy, or by calling 810-648-6127.
A Facebook contest will launch on February 1 which will give community members a chance to win a number of prizes; however, the real winners will be those who commit to making healthy lifestyle changes. Like us on Facebook and watch for the event to post so you can be a part of the fun.
In addition, hospital employees will be accepting challenges to fulfill different health-related goals and will enjoy healthy recipes in the café prepared specially for this month.
You can do your part by making healthy changes to lower your risk of developing heart disease. Controlling and preventing risk factors is also important for people who already have heart disease.
To lower your risk:
Watch your weight.
Quit smoking and stay away from secondhand smoke.
Control your cholesterol and blood pressure.
If you drink alcohol, drink only in moderation.
Get active and eat healthily.
For more information about McKenzie activities, visit www.mckenziehealth.org.