Dr. James Kosiur to Offer Orthopedic Services at Croswell Clinic
Making it more convenient for community members to receive the orthopedic care they need, Dr. James Kosiur will begin seeing patients at the Croswell Clinic on February 6. A leading provider of orthopedic services in Michigan, Dr. Kosiur joined McKenzie Health System in 2017 and currently sees patients at McKenzie Orthopedics (formerly United Orthopedics) in Sandusky.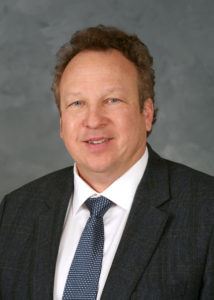 Dr. Kosiur's office hours at Croswell Clinic will consist of the first and third Wednesdays of each month with appointments available in the afternoon from 1:00–5:00 p.m. Services provided through McKenzie Orthopedics include general orthopedics, arthroscopic hip/knee/elbow/wrist/ankle surgeries, total joint replacement, joint revisions, rotator cuff repair, and knee ligament repairs.
"We are delighted to expand specialty care in our communities, helping more people avoid unnecessary travel as well as time away from family and work," said Billi Jo Hennika, Chief Operating Officer at McKenzie Health System. "Dr. Kosiur has been an incredible addition to the McKenzie Health System team and we are pleased to start providing his appointments in another location that will make it convenient for our community members."
Previously employed at Allegan Sports Medicine and Orthopedics in Allegan and as an independent orthopedic surgeon in Grand Rapids, Dr. Kosiur completed his orthopedic residency at Park Lane Medical Center in Kansas City and medical school at the University of Osteopathic Medicine and Health Science in Des Moines, Iowa; he received his undergraduate degree in Biology from Oakland University in Rochester Hills. He is board-certified by the American Osteopathic Board of Orthopedic Surgery.
The Croswell Clinic is located at 8 N. Howard Avenue in Croswell. To make an appointment with Dr. Kosiur in either Sandusky or Croswell, please call 810-648-6113.