Get Social – It Keeps You Young
Category: LiveSmart
Posted On:
Written By:

Baldwin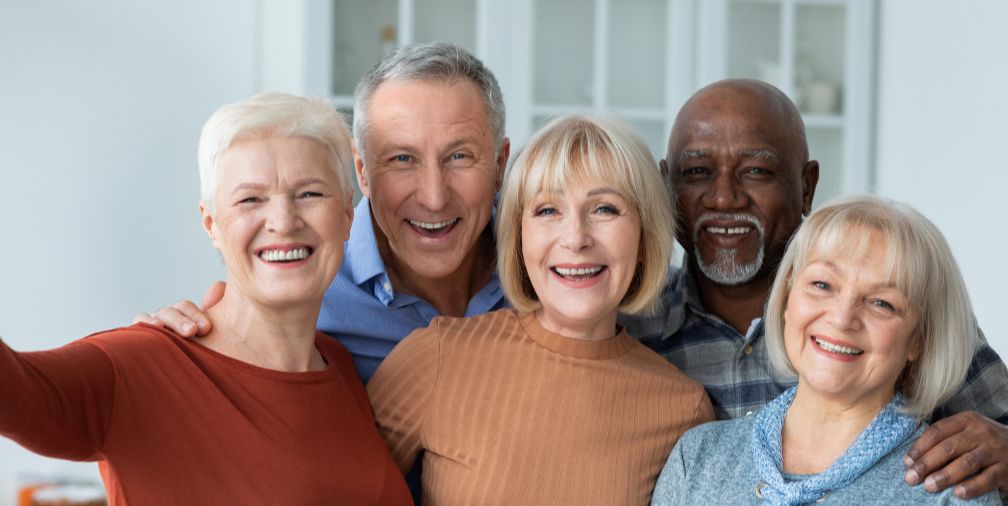 Enjoy these physical and mental health benefits when you spend time with others.
If you're looking for an easy way to improve your mental health as you age—and maybe even prolong your life—you may want to think about socializing more. Having strong social connections has been shown to have many health benefits for people of all ages, but especially for older adults. So it may just be that if you want to feel younger, and better, all you have to do is be more social.
A strong social life has been linked to mental health benefits, like less depression, more positive moods and fewer negative feelings. Research has also shown that people who have a wider social circle tend to be more physically active. The researchers suggest that when older adults socialize with a variety of family, close friends, casual friends, acquaintances and even strangers, they're more likely to leave the house to engage with other people, making them more active.
Being more physically active offers a host of physical health benefits, from improving cardiovascular health and warding off disease to helping people maintain a healthy weight and improving sleep. It also contributes to better emotional health and may boost cognitive ability.
About 28 percent of older adults live alone, according to the National Institute on Aging. Living alone can lead to social isolation and loneliness. Research has linked social isolation and loneliness to higher risks of many mental and physical health conditions, from depression and anxiety to high blood pressure, obesity and Alzheimer's disease, among others. But studies show that being engaged in more social activities tends to counteract the negative effects of living alone.
25 Ideas for Being More Social
Ready to be more social? There are many ways older adults can enjoy more social connections. In addition to staying in touch with close family and friends, consider trying one or more of the following activities:
Take a class to learn something new
Join a book group
Find a club focused on hobbies you enjoy
Play cards or games
Enroll in a dance class
Join a gym or exercise group
Play with your grandkids
Find a walking group (in the mall or outdoors)
Attend a show or musical performance
Teach a skill to others
Make a meal and invite family or friends over
Join a local singing group or theater troupe
Visit with neighbors
Meet a friend or acquaintance for coffee or a meal
Go on a bus trip or tour
Help in a community garden
Join a bowling or bocce league
Travel with an organized group
Visit a museum (many have free group tours)
Reconnect with old friends
Volunteer in your community
Join a committee where you live or worship
Adopt a pet – or offer to walk or care for shelter animals
Attend activities at your local senior center
Ask a friend to go to the movies with you
For more LiveSmart articles, visit www.McKenzieHealth.org/LiveSmart.
Copyright 2023 © Baldwin Publishing, Inc.  Health eCooks™ is a designated trademark of Baldwin Publishing, Inc. Cook eKitchen™ is a designated trademark of Baldwin Publishing, Inc. Any duplication or distribution of the information contained herein without the express approval of Baldwin Publishing, Inc. is strictly prohibited.
Date Last Reviewed: March 20, 2023
Editorial Review: Andrea Cohen, Editorial Director, Baldwin Publishing, Inc. Contact Editor
Medical Review: Perry Pitkow, MD
Learn more about Baldwin Publishing Inc. editorial policy, privacy policy, ADA compliance and sponsorship policy.
No information provided by Baldwin Publishing, Inc. in any article is a substitute for medical advice or treatment for any medical condition. Baldwin Publishing, Inc. strongly suggests that you use this information in consultation with your doctor or other health professional. Use or viewing of any Baldwin Publishing, Inc. article signifies your understanding and agreement to the disclaimer and acceptance of these terms of use.