McKenzie Receives Grant in Support of the "Reach Out and Read" Program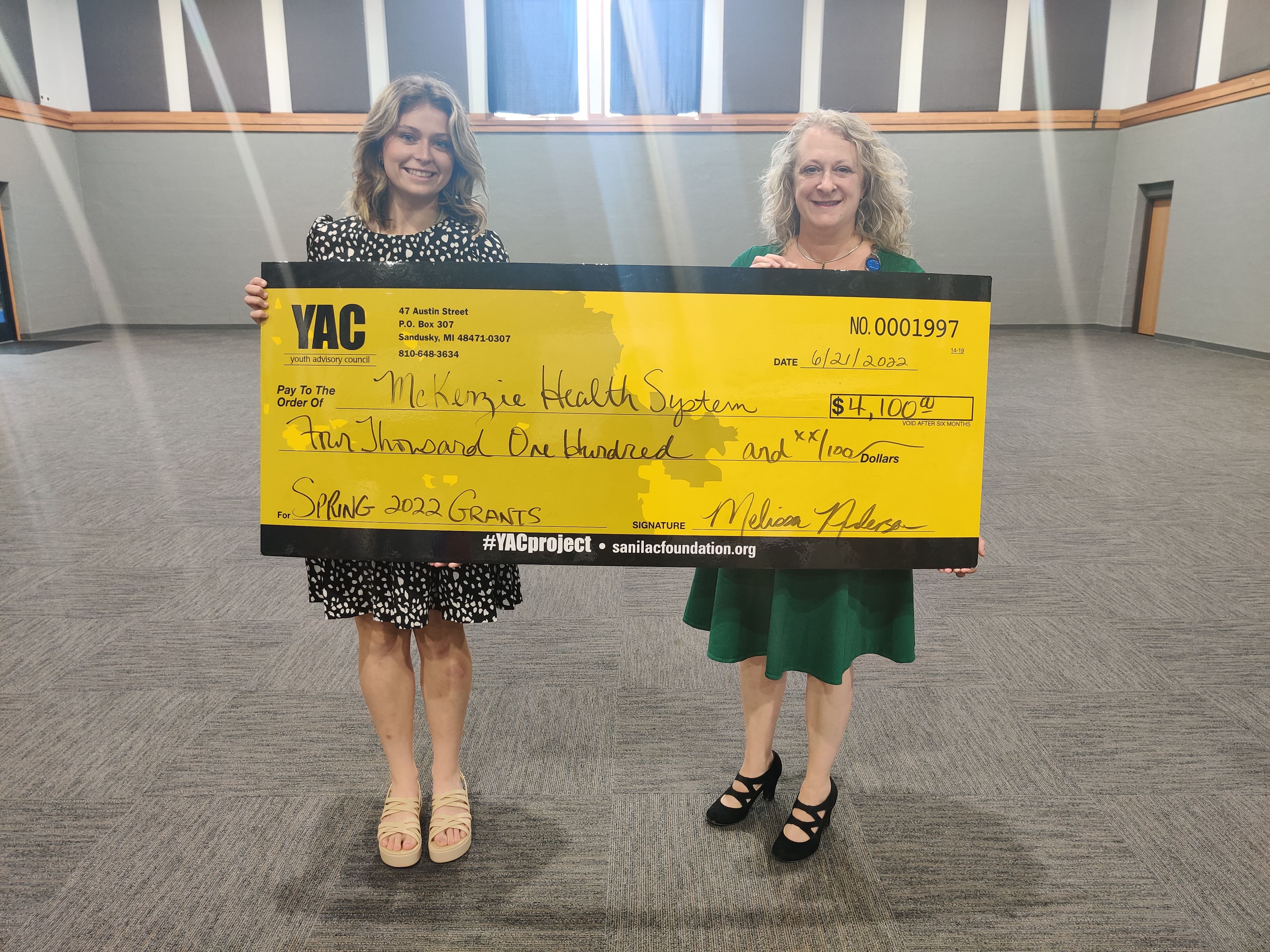 We are extremely grateful to the Sanilac County Community Foundation (SCCF) and their Youth Advisory Council (YAC) for the recent grant award of $4,100 to purchase books in support of the "Reach Out and Read" program that is part of our family healthcare clinics.
Pictured (l to r): Jenna Steeb Co-chair of YAC presents grant award check to Nina Barnett, Public Relations and Foundation Coordinator at McKenzie Health System.
Reach Out and Read gives young children a foundation for success by incorporating books into pediatric care and encouraging families to read aloud together. At more than ten routine health checkups from infancy through 5 years, Reach Out and Read-trained providers, like those at McKenzie Health System:
Talk with parents about how important it is to read aloud and engage with their young children
Demonstrate how best to look at books and talk about the stories with their infants, toddlers, and preschoolers
Encourage them to cuddle up and read together at home and build routines around books
And then give a new book to the child to take home and keep
At the end of the program, every child has a home-library of books, each given with the advice to parents that they are their child's first and most important teacher.
The SCCF and YAC awarded over $22,000 in grants to a variety of organizations that will use the funds to improve the lives of those in our community.
"We couldn't be more thrilled with the work that these organizations are doing to make our community a better place to live, work, and thrive," shares Melissa Anderson, SCCF Executive Director. Since its inception, the SCCF has granted over $3.5 million dollars into Sanilac County.
For more information regarding grants available through the Sanilac County Community Foundation, please visit their website at www.sanilacfoundation.org or contact the SCCF office at 810-648-3634.
To learn more about the family healthcare providers at McKenzie Health System, visit https://www.mckenziehealth.org/services/family-healthcare/.