Have German Potato Salad and Eat Outside Day
Category: LiveSmart
Posted On:
Written By:

Baldwin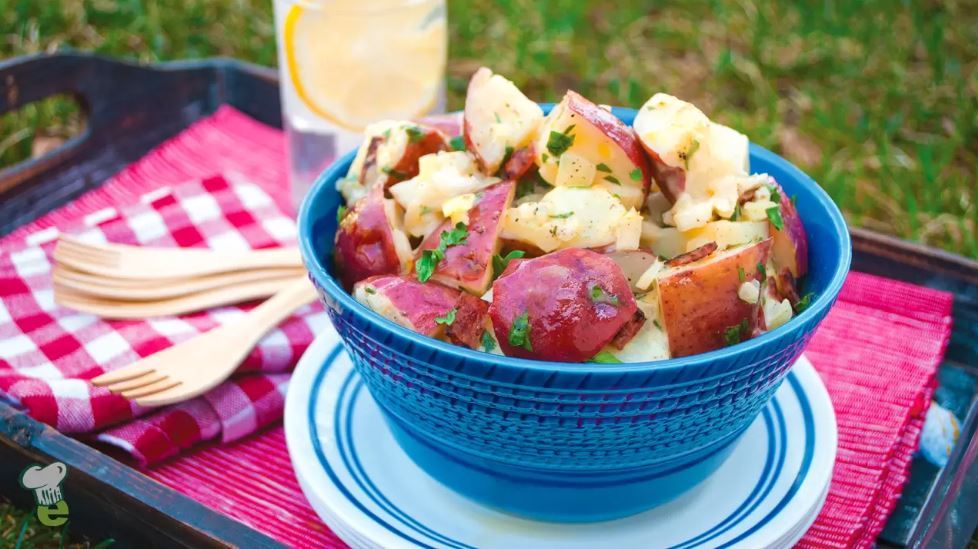 Serves 6
Potato salad doesn't have to be smothered in fattening mayonnaise to taste good. Apple cider vinegar and sweet onion give this potato salad flavor without adding fat or extra calories. Serve it warm.
Ingredients
2 1/2 lbs red potatoes, washed and cut into 3/4-inch pieces

1/2 medium sweet onion, chopped

1/3 cup light mayonnaise (gluten free if needed)

1 tsp Dijon mustard (gluten free if needed)

2 Tbsp olive oil

1/3 cup apple cider vinegar

2 Tbsp sugar

2 Tbsp chopped fresh parsley

1/8 tsp salt

Black pepper to taste

1 Tbsp cooked crisply crumbled low sodium turkey bacon (gluten free if needed)
Preparation
Place potatoes in a large saucepan and cover with water. Bring to a boil over high heat. Reduce heat to low and simmer until tender but still firm, about 15 to 20 minutes. Drain in a colander and transfer to a large bowl. Add onion.
In a small bowl, whisk together mayonnaise, mustard, olive oil, vinegar, sugar, parsley, salt and pepper (to taste). Add mayonnaise mixture to potatoes and stir gently. Add turkey bacon and stir to combine. Let stand for 1 hour before serving.
Nutrition Facts
Serving size: 


Per Serving: 
Calories: 270
Fat: 9g
Saturated Fat: 1g
Cholesterol: 7mg
Sodium: 195mg
Carbohydrates: 44g
Fiber: 4g
Protein: 4g
For more LiveSmart articles, visit www.McKenzieHealth.org/LiveSmart.
Copyright 2016-2022 © Baldwin Publishing, Inc. All rights reserved.  Health eCooking® is a registered trademark of Baldwin Publishing, Inc. Cook eKitchen™ is a designated trademark of Baldwin Publishing, Inc. Any duplication or distribution of the information contained herein without the express approval of Baldwin Publishing, Inc. is strictly prohibited.
Date Last Reviewed: February 6, 2017
Editorial Review: Judy Capodanno, Health eCooking Editorial Director, Baldwin Publishing, Inc. Contact Editor
Medical Review: Jane Schwartz, RDN, CLT
Learn more about Baldwin Publishing Inc. editorial policy, privacy policy, ADA compliance and sponsorship policy.
No information provided by Baldwin Publishing, Inc. in any article or in any Health eCooking® video, recipe, article and/or other Health eCooking product or service is a substitute for medical advice or treatment for any medical condition. Baldwin Publishing, Inc. strongly suggests that you use this information in consultation with your doctor or other health professional. Use or viewing of any Baldwin Publishing, Inc. article or any Health eCooking® video, recipe, article and/or other Health eCooking product or service signifies your understanding and agreement to the disclaimer and acceptance of these terms of use.