12 Healthy After-School Snacks
Category: LiveSmart
Posted On:
Written By:

Baldwin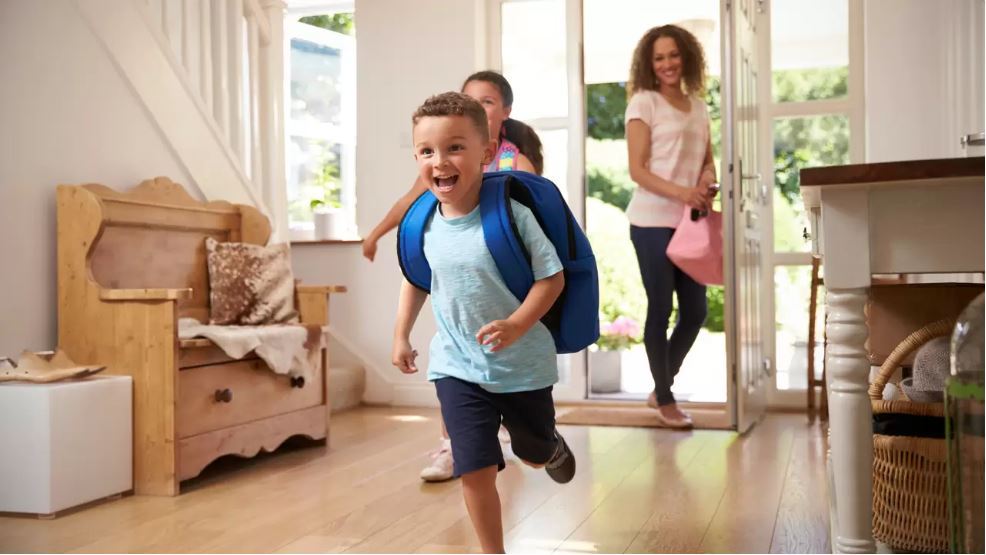 These delicious but healthy snacks keep kids going strong until dinner.
If you've got hungry kids walking in the door after school, you have two choices. You can let them raid the pantry, munching on any food they find. Or you can take a few minutes to prepare a healthy and satisfying snack that will power them through after-school activities and homework.
Filling up on salty or sugary snacks does no one any good. But the good news is that it doesn't take much effort to make these delicious snacks for or with your kids.
Fruit and Yogurt Dip: Most kids will gladly eat a serving of fruit when they can dip it in something tasty! Combine 1 cup non-fat vanilla yogurt, 1 tsp cinnamon and 1 tsp fresh lemon juice. Slice some fruit and start dipping!
Elvis Sandwich: Cover a rice cake or slice of whole grain toast with a thin layer of peanut butter. Top with sliced banana for an open-faced sandwich.
Crispy Kale Chips: Make this healthy alternative to potato chips that's full of calcium and big on crunch. Cut and rinse kale leaves, then dry thoroughly. Mix leaves with 1 Tbsp olive oil and ¼ tsp salt. Bake at 400oF for 8 to 12 minutes until crisp.
Protein Rolls: Roll up slices of turkey and cheese for a simple low-carb snack. For an added treat, wrap around a pickle spear.
Popcorn: Use an air popper to pop your own popcorn without oil and give it a light sprinkling of seasoning. This is an inexpensive whole grain snack that's high on fiber.
Veggies and Greek Yogurt Dip: Carrots, cucumber and tomato pair well with a dip made from 1¼ cup low-fat Greek yogurt, 2 tsp fresh dill, 4 Tbsp lemon juice, 2 minced garlic cloves, ½ cup grated cucumber, 1 tsp olive oil and a dash of salt and pepper.
Cheese Quesadilla: All you need are corn tortillas and some low-fat shredded cheese for this easy snack. Heat in a skillet for a few minutes on each side and you're done!
Hummus: Made from chickpeas, fiber-filled hummus comes in a variety of flavors, including chocolate! Serve with whole grain crackers or vegetables.
Homemade Trail Mix: Combine whole grain cereal, nuts, seeds, raisins and dark chocolate chips for a deliciously satisfying snack that costs less than pre-made varieties.
Fruit with Nut Butter: Spread apple, pear or banana slices with any kind of nut butter. Top with low-sugar granola for some added crunch.
Smoothie: Combine fresh or frozen berries with plain yogurt, low-fat milk and ice in a blender. To add natural sweetness, toss in a frozen banana.
Avocado Toast: Pit, peel and smash an avocado, then combine with 1 tsp lemon juice and a dash of salt and pepper. Spread over whole grain toast. For a boost of protein, add slices of hard-boiled egg on top.
For more LiveSmart articles, visit www.McKenzieHealth.org/LiveSmart.
Copyright 2022 © Baldwin Publishing, Inc. All rights reserved.  Health eCooking® is a registered trademark of Baldwin Publishing, Inc. Cook eKitchen™ is a designated trademark of Baldwin Publishing, Inc. Any duplication or distribution of the information contained herein without the express approval of Baldwin Publishing, Inc. is strictly prohibited.
Date Last Reviewed: July 22, 2022
Editorial Review: Andrea Cohen, Editorial Director, Baldwin Publishing, Inc. Contact Editor
Medical Review: Jane Schwartz, RDN, CLT
Learn more about Baldwin Publishing Inc. editorial policy, privacy policy, ADA compliance and sponsorship policy.
No information provided by Baldwin Publishing, Inc. in any article is a substitute for medical advice or treatment for any medical condition. Baldwin Publishing, Inc. strongly suggests that you use this information in consultation with your doctor or other health professional. Use or viewing of any Baldwin Publishing, Inc. article signifies your understanding and agreement to the disclaimer and acceptance of these terms of use.