MHS Supports "Go Red for Women" Event and Heart Health During American Heart Month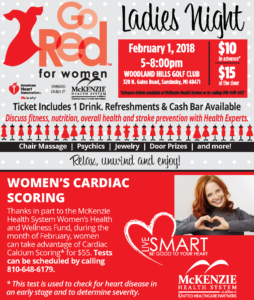 Showing its heartfelt dedication to women's health, McKenzie Health System is kicking off American Heart Month with their second annual "Go Red for Women" event on February 1. The event for women will include several heart-healthy stations, staffed by local experts, providing information on nutrition, fitness, overall health and stroke prevention. Also available will be chair massages, psychics, jewelry, door prizes, and more!
To further promote the efforts of American Heart Month, McKenzie Health System is once again spotlighting health and wellness with "Live Smart: Be Good to Your Heart!" The annual promotion includes tips for healthy living, a discount on cardiac scoring for women, a Facebook contest and more.
"We encourage community members to not only wear red on Valentine's Day but throughout the month to showcase their awareness and support for heart health," said Nina Barnett, Public Relations Coordinator, McKenzie Health System. "We are proud to offer wonderful Live Smart apparel in our gift shop, to celebrate women's health at our second annual Go Red for Women event and to shine a light on the importance of taking care of your heart."
McKenzie Health System is hosting two Facebook contests for community members: individuals can post healthy lifestyle photos focused on exercise, healthy eating, quitting a bad habit, drinking water, laughing with friends and more throughout February and tag McKenzie Health System to be registered to win a Garmin activity tracker. Likewise, fitness classes can post a class photo and tag McKenzie Health System to be registered to win a special healthy treat delivered to the class.
Go Red for Women will be held February 1 at 5:00 p.m. at Woodland Hills Golf Club, 320 Gates Road, Sandusky. Tickets are $10 in advance and $15 sat the door and can be purchased at www.mckenziehealth.org/go-red and in the McKenzie Health System main entrance, outpatient lobby or gift shop. They can also be ordered through Nina Barnett at nbarnett@mckenziehealth.org or by calling 810.648.6127. Each ticket includes one drink as well as a heart-healthy discussion.
Heart disease and strokes remain the leading cause of death for both men and women, and American Heart Month serves to remind individuals of all ages of the importance of taking care of their hearts through regular exercise, a healthy diet, ample sleep, stress-reduction strategies and regular check-ups.