17th Annual McKenzie Golf Scramble a Great Success!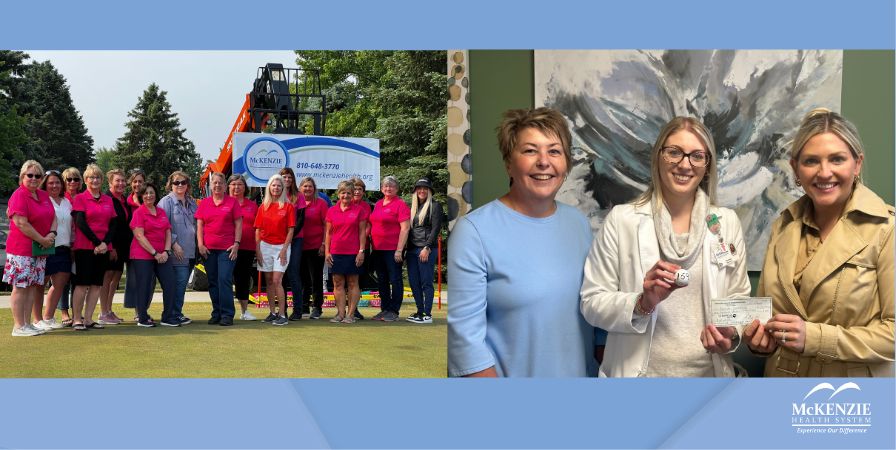 Group Photo (l to r): Erny Doerr, Audrey Essenmacher, Karen Guibord, Carol Mitchell, Auxiliary Co-President Emma Navarro, Nancy Kaufman, Merrily Loding, Patti O'Connor, Jo Derr, Mary Sweet, Sherry Ulrich, Lynn Fuller, Margie Jensen, Phyllis Chambers, Donna Foster, Margaret Jensen, and Auxiliary Co-President Kelsey Loding.
Golf Ball Drop Winner Photo (l to r): Auxiliary Co-President Emma Navarro, Golf Ball Drop Winner Brenda Weakland, and Auxiliary Co-President Kelsey Loding.
The McKenzie Auxiliary Golf Scramble, which took place on Thursday, June 8, again neared record numbers with both sponsors and teams alike. When everything was tallied, the event raised over $27,000 in proceeds for the McKenzie Health System Auxiliary.
For the sixth year, the event featured a Golf Ball Drop, where Bender Builders dropped golf balls from a Skytrak before the event's shotgun start. Brenda Weakland was the winner of the $1,000 Golf Ball Drop prize for having the closest ball to the hole.
"We have an exceptional group of volunteers who work for months to prepare for this event," said Emma Navarro, McKenzie Auxiliary Co-President. "And every year it is exciting to begin the day and see the faces of those who have come to support McKenzie and enjoy the great day of golf and activities that have been planned out for them. Having it be another banner year is icing on the cake!"
"We want to express our deepest appreciation to this year's sponsors including: Nicklaus sponsors Covenant HealthCare, The Hamed Family, Moulton Financial Group; Watson sponsors Coverys and X-Ray Associates of Port Huron; Golf Ball Drop Sponsor Bender Builders, LLC.; Dinner Sponsors Ball Equipment, Eastern Michigan Bank, Kendra IT, Stifel Investment Services – Steven B. Disser, David A. Thomas, Matthew S. Turnbull, Golda M. Dimon, and Integrated Systems Consultants; Golfapalooza Sponsor Kohler's Propane Company; and Bloody Mary Bar Sponsor Bender Builders, LLC," adds Kelsey Loding, McKenzie Auxiliary Co-President. "We are also grateful for our many other sponsors, donors, and of course the teams who competed for the winning titles."
With thirty-nine teams registered, and many generous donors and sponsors, this year's annual event raised funds to go toward the purchase of equipment.
"The McKenzie Auxiliary has been a force for fundraising for decades and continues to grow in strength," shares Steve Barnett, President and CEO at McKenzie Health System. "The impact they have made on our organization and, most importantly, in the care of patients right here in our community is remarkable. I am grateful for and proud of this outstanding group of volunteers!"
Four-person teams enjoyed eighteen holes of golf with opportunities to join in other contests along the way, including a "hole-in-one" contest, sponsored by the McKenzie Auxiliary, and a "Golfapalooza" sponsored by Kohler Propane.
Winners of this year's scramble are:
· Men: Jay & Kay Boot Leggers – Jim Essad, Scott Campbell, Jim Williams, and Brian Wood.
· Women: Team Stolicker – Stephanie Gobie, Sharon Langenburg, Sandy Miller, and Julie Stolicker.
· Mixed: Team Lackowski, Hanson, Long Group – Dave Hanson, Laurie Messing, Donna Glaza, and Bill Lackowski.
Community members can mark their calendars for the 18th annual McKenzie Golf Scramble, scheduled for June 6, 2024.
All proceeds from the annual Golf Scramble and other Auxiliary fundraising efforts are donated to McKenzie Health System. Founded in 1967, the MHS Auxiliary is comprised of individuals that volunteer thousands of hours. Members donate their time and talents for the benefit of the hospital, working in the gift shop, providing support at community events, and coordinating fundraising opportunities. For more information about volunteering, contact Nina Barnett, MHS Auxiliary Liaison, at 810-648-6127 or nbarnett@mckenziehealth.org. For membership information, contact Lynn Fuller, MHS Auxiliary Membership Chair, at 810-648-6150 (ext. 366) or lfuller@mckenziehealth.org.