6 Healthy Habits to Teach Your Kids
Category: LiveSmart
Posted On:
Written By:

Baldwin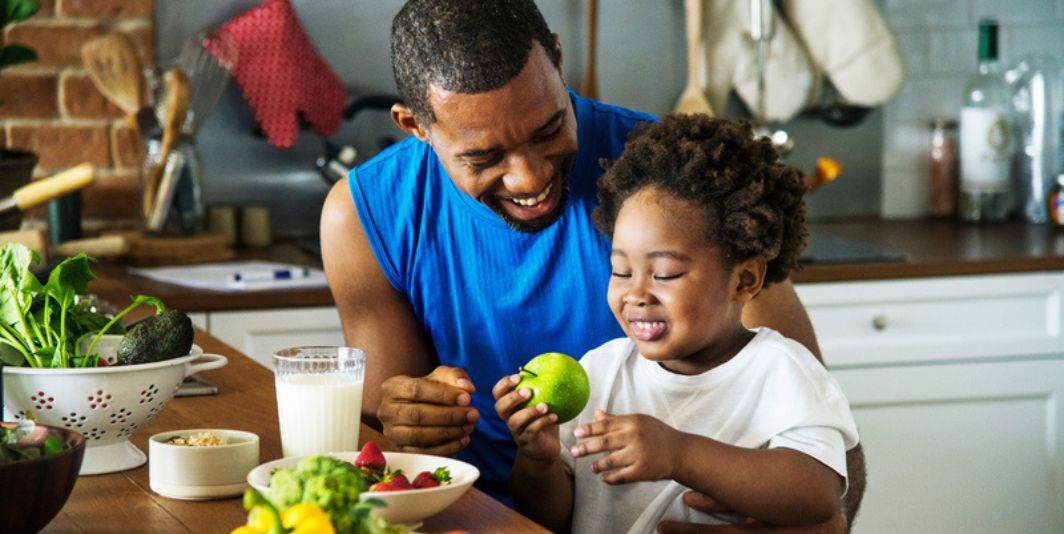 It's never too early to show your children how to live a healthier life.
Wouldn't it be great if all kids were given the tools necessary to take good care of themselves as they got older? We teach our kids many things that help them survive and flourish. We show them how to tie their shoes and brush their teeth. We teach them the importance of education. We give them tips on avoiding danger. But what about other basic things they do every day that affect their health?
Encouraging good habits when kids are young sets them up for a lifetime of healthier living. One of the best ways to do that is to lead by example—kids are more likely to mimic the habits of their parents and guardians. So if you practice healthy habits, your kids are more likely to grow up doing the same.
Here are 6 healthy habits to teach your kids now that will provide lifelong benefits:
Don't skip breakfast – One of the best ways to start each day off on the right foot is to eat a healthy breakfast. Steer clear of sugar-filled and calorie-laden choices and serve protein-rich foods, such as eggs, nut butter and Greek yogurt, along with whole grains and fruit.
Eat the rainbow – Different colors of fruits and vegetables offer different health benefits. Get kids in the habit of eating foods from a varied color palette. To make eating colorful fruits and veggies more fun, consider making kabobs or serving alongside flavorful dips.
Quench thirst with water – One of the biggest sources of sugar in American diets is sugar. Limit the amount of soda and sugary kids drink and get them used to drinking water or flavored seltzer when they're thirsty.
Know the difference between snacks and treats – Eating snacks can be part of a healthy diet, if you eat the right foods. Snacks should include foods similar to what you would eat at meals, but in smaller quantities. Foods like chips, cookies and candy are treats, not healthy snacks.
Avoid diets – It's okay to encourage eating more (or less) of certain food groups or to reduce the amount of calories consumed, but following diets that deprive a person of specific foods or have strict rules often lead to failure and a cycle of yo-yo dieting that is unhealthy.
Move every day – If kids learn to embrace physical activity when they're young, they're more likely to stay active as they get older. Exercise shouldn't be a chore and doesn't have to be done for a long period of time at once. Even a few minutes of activity here and there throughout the day add up. Get kids involved in activities they enjoy. Aside from organized activities, find fun ways to move more at home—play tag, have a dance party or challenge the kids to a foul shot competition.
For more LiveSmart articles, visit www.McKenzieHealth.org/LiveSmart.
Copyright 2023 © Baldwin Publishing, Inc.  Health eCooks™ is a designated trademark of Baldwin Publishing, Inc. Cook eKitchen™ is a designated trademark of Baldwin Publishing, Inc. Any duplication or distribution of the information contained herein without the express approval of Baldwin Publishing, Inc. is strictly prohibited.
Date Last Reviewed: February 14, 2023
Editorial Review: Andrea Cohen, Editorial Director, Baldwin Publishing, Inc. Contact Editor
Medical Review: Jane Schwartz, RDN, CLT
Learn more about Baldwin Publishing Inc. editorial policy, privacy policy, ADA compliance and sponsorship policy.
No information provided by Baldwin Publishing, Inc. in any article is a substitute for medical advice or treatment for any medical condition. Baldwin Publishing, Inc. strongly suggests that you use this information in consultation with your doctor or other health professional. Use or viewing of any Baldwin Publishing, Inc. article signifies your understanding and agreement to the disclaimer and acceptance of these terms of use.