McKenzie Health System Achieves Outstanding Patient Safety Score in National Survey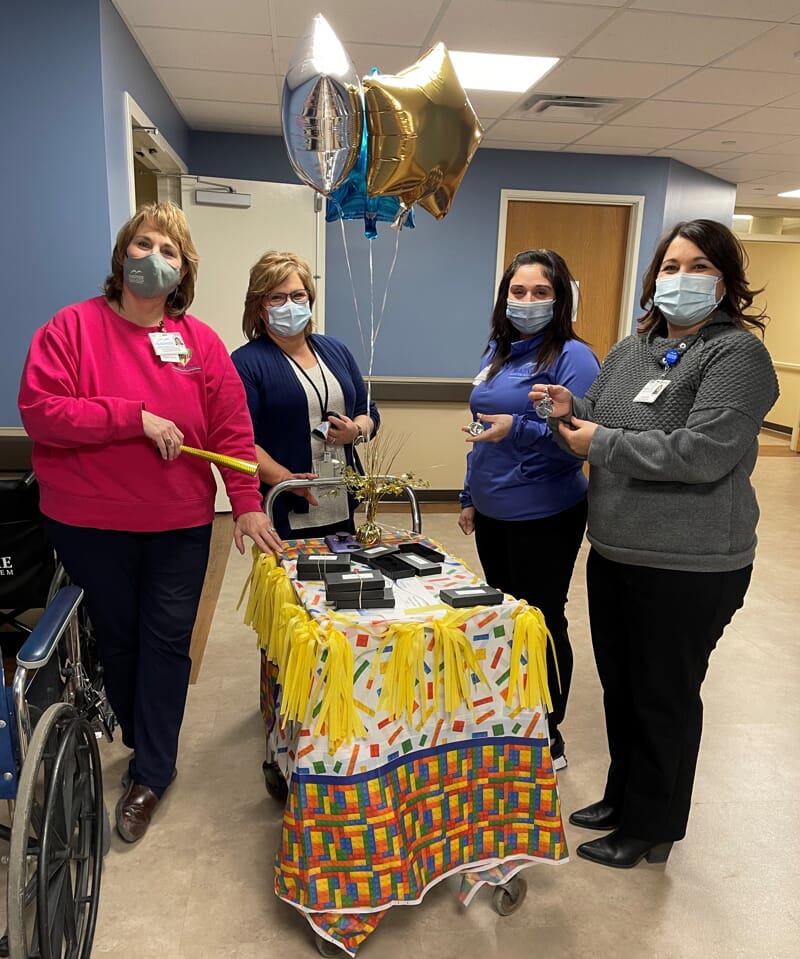 McKenzie Team Members (L to R)
Wendy McBride, Jenifer Monzo, Jackie Pacheco, and Billi Jo Hennika
make the rounds delivering pizza and gifts to staff in celebration of high patient safety scores.
---
Sanilac County, Mich. – Patient safety and wellness is at the heart of McKenzie Health System (MHS)—and it shows! In a recent national survey, providers and staff at MHS were asked to complete a survey, from their unique perspective within the organization, of the culture of patient safety. The report showed 90 percent of respondents felt that MHS has "excellent" or "very good" overall safety measures, compared to the national average of 69 percent for other organizations. This survey was designed to help hospitals assess the culture of safety in their institutions by determining how providers and staff perceive various aspects of patient safety. The entire McKenzie team was recently honored with a celebration.
"This is one of the most important honors we can receive as an organization as it truly assesses how our team views safety throughout every part of McKenzie," said Jenifer Monzo, RN, BAS, CPHRM, Director of Quality and Risk Management at McKenzie Health System. "Our score is leaps and bounds above the national average and a significant improvement over our previous results. Thank you to everyone who participated in the survey and everyone who works so hard every day to support teamwork, communication and superior safety."
A total of 172 hospitals nationwide participated in the Hospital Survey on Patient Safety Culture last fall, including hospital staff with direct contact with patients, those who may not have direct interaction with patients but whose work directly affects patient care, hospital-employed physicians who spend most of their work hours in the hospital, and hospital supervisors, managers, and administrators. McKenzie Health System's score has increased notably from 69 percent in 2017 and 78 percent in 2019 to the current 90%.
"We recognize that our employees are also members of our community and want quality, safe care to be readily available," shared Billi Jo Hennika, Chief Operating Officer at McKenzie Health System. "Regularly surveying the individuals who are on the front lines of safety provides a more complete picture of our current situation and if there are any specific improvements we want to address."
A total of sixty-nine team members completed the survey, scoring the system on measures including director/manager expectations, opportunities for continuous learning, feedback, and communication, staffing and management support for patient safety. One respondent noted, "Covid brought the hospital together because we need each other to get through the day. We have such a good team and I love it!"
To learn more about McKenzie Health System, visit www.McKenzieHealth.org.