McKenzie Nurse Practitioner Megan Burgess Earns Certification for Department of Transportation Physicals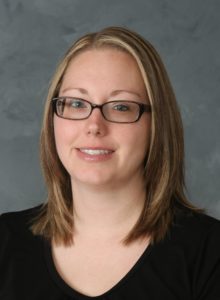 Enhancing her level and range of care for the local community, McKenzie Health System Family Nurse Practitioner Megan Burgess recently earned a new certification allowing her to offer Department of Transportation (DOT) physicals. 
Many jobs require employees to receive a regulated physical examination, which must be performed by medical examiners who are trained and certified by the Federal Motor Carrier Safety Administration. A DOT medical card is good for two years following the physical.
With more than a dozen years of nursing experience and a strong background in critical care, Burgess cares for patients at McKenzie Rural Health Clinic, located at 75 Dawson Street in Sandusky. She earned her bachelor's and master's degrees in Nursing at Chamberlain University in Troy as well as an associate's degree in nursing from St. Clair County Community College in Port Huron.
"Megan's standard of care for her patients already goes above and beyond, and we are very pleased to add DOT physicals to her list of services," said Debbie Ruggles, Director of Healthcare Practices at McKenzie Health System.
The DOT screening examines health history, vision, hearing, blood pressure, heart disorders, diabetes, respiratory issues and more. McKenzie Rural Health Clinic, also home to Family Nurse Practitioner Michael Lewis, DNP, FNP-C and Family Nurse Practitioner Brandy Trepkowski, MSN, FNP-BC, provides acute and chronic care, allergy injections, diagnostic testing, immunizations, men's and women's health services, minor surgical procedures, newborn to geriatric care and patient health education, among other services.
DOT physicals are offered in Peck, Port Sanilac, and at all 3 family healthcare clinics in Sandusky. To schedule an appointment with one of our clinics, please call 810-648-0610. Patients should take prescribed medications as usual, wear loose fitting clothing, and be prepared to give a urine sample for health screening and potentially drug and alcohol screening. Drivers with heart-related issues should bring a letter from their cardiologist that outlines their medical history and current medications, and indicates that they are safe to work.