MHS Receives Donation From Sanilac County CMH Employees During "Casual for a Cause"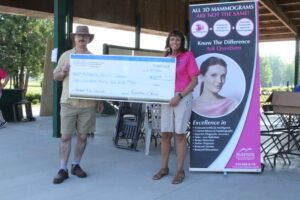 McKenzie Health System recently received a donation of $839 from Sanilac County Community Mental Health (CMH) employees to go toward the cost of the 3D mammography technology. CMH employees participate in "Casual for a Cause" by dressing casually on Fridays in exchange for a donation to local non-profit causes that benefit residents of Sanilac County. This generous donation was award to the McKenzie Auxiliary during the June 10 Golf Scramble.
The 3D mammography technology, which includes 3D imaging along with ProFound Artificial Intelligence (AI) and Contrast-Enhanced Spectral Mammography (CESM), was purchased in 2019 bringing the latest in breast cancer detection to the area. This level of detection is crucial in early detection which can make a life-saving difference.
Mammograms can be scheduled by calling 810-648-6179. Additional information on all services and testing available at McKenzie Health System can be found at www.McKenzieHealth.org.