McKenzie Health System to Host Central Michigan University Medical Student Zachary Smith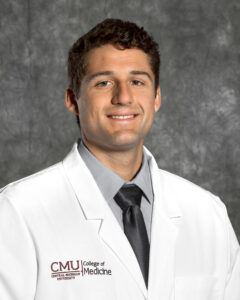 As part of its ongoing partnership with Central Michigan University's (CMU) Comprehensive Community Clerkship program, a part of the CMU Medical School, McKenzie Health System will host medical student Zachary Smith this year. CMU's College of Medicine has a strong emphasis on rural and medically underserved regions, and this clerkship gives medical students the opportunity to gain essential experience in a rural setting.
A Grand Rapids native, Smith will work alongside Dr. James Sams at the McKenzie Health and Wellness Center in Sandusky from July through December. Smith earned his bachelor's degree in Biomedical Science from CMU. In his free time, he enjoys traveling, reading, and walking his dog.
"We enjoy the chance to connect with the next generation of physicians and to offer valuable real-world hands-on training," said Steve Barnett, President and CEO of McKenzie Health System. "We appreciate this partnership with CMU and look forward to welcoming Zachary to our community."
CMU's Comprehensive Community Clerkship program is a 20-week medical education experience in underserved rural and urban communities in Michigan, with exposure to community-based primary care adult medicine, pediatrics, women's health, emergency medicine, inpatient care, and surgical care.