Family Nurse Practitioner Melissa E. Shimshock Joins Mckenzie Family Healthcare in Sandusky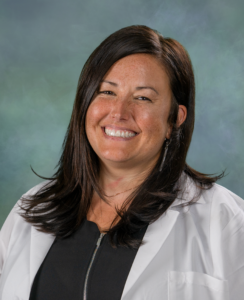 Family Nurse Practitioner Melissa E. Shimshock has joined McKenzie Family Healthcare in Sandusky, where she will care for patients along with Dr. Mark English. Shimshock's background includes 16 years as a registered nurse in emergency, flight, cardiac, and intensive care medicine; she also served as a travel nurse in Las Vegas for 7 years. She is certified in Advanced Cardiovascular Life Support and Basic Life Support, as well as Advanced Trauma Life Support.
Shimshock received her bachelor's in nursing from Wayne State University and her master's in nursing from Walden University and was named Nightingale Award runner-up for excellence in community nursing in 2016. She previously served as Injury Prevention Coordinator for Ascension Providence Trauma Services and established and led Safe Kids Oakland County.
"We are thrilled to welcome Melissa to our team in Sandusky," said Heather Chambers, Director of Healthcare Practices for McKenzie Health System. "Her diverse experience and passion for health and wellness will be the perfect addition to our growing team."
A native of Clinton Township, Shimshock moved to Croswell two years ago with her husband and sons. A semi-retired competitive National Champion rugby player, she enjoys being active in her community and is looking forward to meeting new patients from throughout Sandusky and the surrounding area.
"Both of my parents worked in medicine, which inspired me to pursue my nursing degrees. I recently lost my father to Covid-19, which really ignited my interest in Covid education, prevention, intervention, and long-term treatments," Shimshock said. "I really look forward to connecting with more patients and members of the local community."
Appointments can be made with Nurse Practitioner Melissa E. Shimshock by calling 810-648-0610. Information about all McKenzie Health System family healthcare providers can be found on our website at www.McKenzieHealth.org.