McKenzie Launches Phase III Cardiac and Pulmonary Rehabilitation Program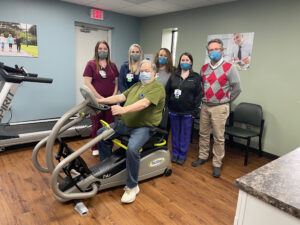 Expanding its services for both cardiac and pulmonary rehabilitation patients, McKenzie Health System has launched its Phase III program to provide an ongoing health maintenance option. Patients who complete cardiac or pulmonary rehab can now continue to use the system's facilities as they work toward maintaining a healthy lifestyle with supervised exercise sessions and health education.
The cardiac and pulmonary rehabilitation programs support those recovering from procedures such as heart surgery, transplants and congestive heart failure and those living with chronic lung disease and issues such as COPD, asthma, interstitial fibrosis, sarcoidosis and lung cancer.
"As patients progress on the road to recovery, we are pleased to offer extended services to help them achieve their goals of functional health and wellness," said McKenzie Health System Program Medical Director Dr. James L. Sams, who is directing both programs. "This next phase simply makes it easier for patients to maintain and further their progress while achieving their health and wellness goals, all in a safe and supervised setting."
Patients participating in the Phase III rehabilitation program will be responsible for the $5 per session cost. The initial phases of both rehabilitation programs may include pain management, diet and nutrition, stress management and a focus on increasing heart and/or lung health.
To learn more or sign up, please contact McKenzie Health System at 810-648-0577.