Sandusky Lions Club Donates to McKenzie Foundation
The Sandusky Lions Club recently attended one of the McKenzie Health System Foundation's "Community Roundtables" to learn more about the new 3D mammography technology, along with other services that have been added over the past few years. After touring the facilities at the hospital campus, the group honored the hospital with a donation on behalf of the Club.
"As a nonprofit, donations from the community can be a real game-changer when it comes to providing the best healthcare. They help afford advances in care that operations fund slowly, if at all," said Nina Barnett, McKenzie Health System Foundation Manager. "Partnering with the community helps assure care will be here when our loved ones need it."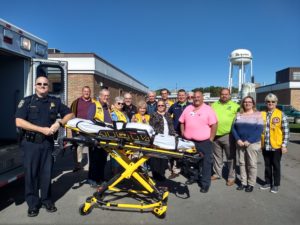 The mission of the Sandusky Lions Club is to empower volunteers to serve their community, meet humanitarian needs, encourage peace and promote international understanding.
For information on how to get involved or make a donation to the McKenzie Health System Foundation, call 810-648-6127.