Sandusky Kiwanis Donates to McKenzie Foundation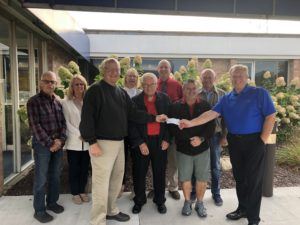 The Sandusky Kiwanis recently made a donation to the McKenzie Health System Foundation. The group visited the hospital to learn more about the new 3D mammography technology, along with other services that have been added over the past few years, to provide the best care for the community.
"We are extremely grateful for the donation and the support from this group. Having local leaders visit our facility, learn about the care we are providing, and then make a donation to help us continue our work speaks volumes of their commitment to us all working together as one community," said Nina Barnett, McKenzie Health System Foundation Manager.
The Kiwanis Club of Sandusky is a part of Kiwanis International, a global organization of volunteers dedicated to changing the world one child and one community at a time. The Club focuses on the lives of children in our community. Last year they gave away over $10,000 to organizations in the Sandusky area.
For information on how to get involved or make a donation to the McKenzie Health System Foundation, call 810-648-6127.