Physical Therapist Jordyn Rasmussen Joins the McKenzie Rehabilitation Team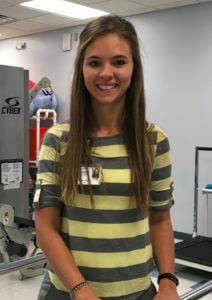 Jordyn Rasmussen recently joined McKenzie Health System's growing rehabilitation team and will serve as a full-time physical therapist in both the hospital's inpatient and outpatient areas. A recent graduate of the University of Michigan – Flint, Rasmussen earned her Physical Therapy (PT) and Doctor of Physical Therapy (DPT) designations.
"We are delighted that Jordyn has joined our outstanding rehabilitation team and that she will contribute her passion and skills to help patients in our community heal, gain strength, and increase the quality of life," said Jenny Long, PT, DPT, Physical Therapist and Director of Rehabilitation Services at McKenzie Health System. "She completed a clinical internship as a student in our system and we are thrilled to welcome her to our full-time team."
For more information or to schedule an appointment, please call 810-648-0210 or visit www.mckenziehealth.org.