McKenzie Health System Receives 2019 Governor's Awards of Excellence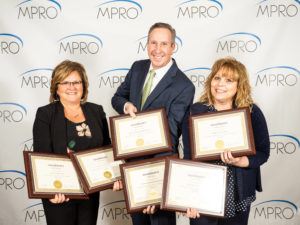 Sandusky, Michigan – McKenzie Health System is pleased to announce it has received MPRO's 2019 Governor's Award of Excellence for Outstanding Achievement in Effective Reporting and Measurement (Hospital Campus) and for Outstanding Achievement in Improving Antibiotic Stewardship: Outpatient Settings for each one of the family healthcare clinics, including Lakeshore Internal Medicine, McKenzie Health and Wellness Center, McKenzie Family Healthcare, McKenzie Croswell Clinic, Peck Medical Center, and McKenzie Rural Health Clinic.
This year, more than 130 Michigan hospitals, physician practices, nursing homes, inpatient psychiatric facilities, ambulatory surgery centers, and home health agencies were honored with the Governor's Award of Excellence. This award recognizes participants for their dedication and success in improving healthcare quality and patient safety in Michigan. To be eligible for the award, participants must have achieved, maintained, and continually improved in specific and rigorous milestones related to the award they received.
"We are fortunate to be able to partner with McKenzie Health System and all the other dedicated organizations across the state of Michigan," said MPRO President and CEO Leland Babitch, M.D., MBA. "To be able to recognize these outstanding accomplishments with the Governor's office highlights the importance of improving healthcare quality in our state."
The Governor's Award of Excellence was first developed in 2003. The current award is based upon work from 2017-2018 in the following areas:
Improving heart health
Increasing adult immunizations
Lowering the risk of infection in hospitals
Effective reporting and measurement
Improving care in nursing homes
Increasing identification of behavioral health conditions
Improving diabetes management

"Earning these awards is a result of the commitment and passion our team demonstrates in providing excellent patient care," said Steve Barnett, DHA, CRNA, FACHE, President and CEO at McKenzie. "We are proud of each and everyone for pursuing our mission of improving the health of our community and providing quality healthcare for those we serve."
Award recipients were honored on May 8, 2019, at Eagle Eye Golf Course in Bath Township, MI. For more information about the Governor's Award of Excellence, including a list of winners, visit http://www.mpro.org/gae2019.
About McKenzie Health System (MHS) is a not-for-profit medical and surgical hospital in Sandusky, Mich., with nine clinics in the surrounding region. Their team of health care professionals is dedicated to providing excellent, compassionate care and services to patients throughout the community. As part of their commitment to superior patient care, clinicians and staff work together to exceed expectations in quality of care, patient safety, and patient satisfaction. For more information about MHS and the many services it provides, please visit their website at www.mckenziehealth.org or call 810-648-3770.
About MPRO
MPRO is a nonprofit organization and national leader in healthcare quality improvement and medical review. Our goal is simple – we are helping healthcare get better. MPRO provides medical consulting and review, as well as data analysis to federal agencies, state Medicaid and public health organizations, healthcare facilities, private health plans, and other third-party payers. For more information about MPRO, visit www.mpro.org. In addition, MPRO represents Michigan in Lake Superior Quality Innovation Network (QIN), which also serves Minnesota and Wisconsin under the Centers for Medicare & Medicaid Services (CMS) Quality Improvement Organization Program (QIO). For more information about Lake Superior QIN, visit www.lsqin.org.