Mark Hamed, MD, MBA, MPH Named 2019 Michigan Rural Health Professional
Michigan Academy of Family Physicians (MAFP) Vice President Hamed Named 2019 Michigan Rural Health Professional
Author: Dana Lawrence, Director of Communications, Michigan Academy of Family Physicians
*Shared with permission
During the Michigan Rural Health Conference held April 25-26 at Soaring Eagle Casino & Resort in Mt. Pleasant, Mark Hamed, MD, MBA, MPH (Sandusky) was honored with the 2019 Michigan Rural Health Professional Award by the Michigan Center for Rural Health.

Mark Hamed, MD, MBA, MPH; Medical Director, Departments of Emergency Medicine and Hospital Medicine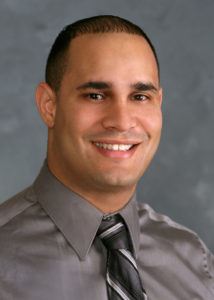 For the past eight years, Dr. Hamed has served as medical director of the Departments of Emergency and Hospitalist Medicine at McKenzie Health System in Sandusky—a rural community of 41,000 located in Michigan's Thumb. Ninety percent of Sandusky residents live in a rural area, 15% (higher than the national average of 13%) live below the poverty line, and 15% have no health insurance.
Innovations Driving Change
McKenzie Health System, one of Michigan's 37 critical access hospitals, is a primary source of healthcare for residents of Sandusky, Sanilac County, and surrounding areas.
"McKenzie Health System understands the importance of effectively addressing population health management, helping to ensure that effective and quality primary care reaches all members of the community," said Dr. Hamed.
Critical access hospital designation is granted to rural hospitals that primarily provide outpatient services, including 24/7 emergency care, to rural residents. The Medicare Rural Hospital flexibility Program, created by Congress in 1997, allows small hospitals to be licensed as critical access hospitals and offers grants to states to help implement initiatives to strengthen the rural healthcare infrastructure.
Despite the fact that rural hospitals often face unique financial challenges that can threaten the care and services they provide, McKenzie Health System has implemented several initiatives spearheaded by Dr. Hamed's innovation that focus on improving the quality of life in the community through an integrated healthcare delivery system characterized by collaboration, innovation, technology, and value.
In partnership with McKenzie Health System CEO and President Steve Barnett, DHA, CRNA, FACHE, Dr. Hamed was instrumental in establishing Michigan's first Oxy-free Emergency Department in February 2013 in response to the growing opioid epidemic. Since then, the number of opioid prescriptions written by the hospital's emergency department physicians has decreased by 90%; the number of overdoses has also declined while job satisfaction and employee morale have increased.
Last summer, Mr. Barnett and Dr. Hamed were invited to share about their initiative's successes before the Office of Rural Health in Washington, DC.
"Over the past [six] years, the community has been very supportive. We believe this support is directly related to our initial outreach and request for input on policy development," said Dr. Hamed, who is passionate about improving the quality of life for his community.
High-Quality Care
In 2017, under Dr. Hamed's tenure as medical director, McKenzie received Level IV trauma designation, meaning that critical patients will come to the Emergency Department to be stabilized or treated, and may then be transferred to a Level I, II, or III facilities, depending on their condition. McKenzie is the first critical access hospital in Michigan to be a fully accredited Level IV Trauma designee. In March 2019, McKenzie also became the first critical access hospital in Michigan to achieve Level III Geriatric Emergency Department Accreditation, which helps to ensure their elderly population receives high-quality emergency care when they visit the Emergency Department.
Also, in partnership with St. John Providence Health System's Elslander Neuroscience Center of Excellence, McKenzie Health System formed the Stroke Network, employing telemedicine and a network of neuroscience specialists to effectively treat strokes. McKenzie is the only accredited "Acute Stroke Ready" hospital in Michigan, which helps ensure that stroke patients receive high-quality stroke care for their patients presenting with signs or symptoms of a stroke.
"We are always looking at ways to improve quality of care in resource-challenged environments, so being innovative in rural areas is a must. McKenzie Health System continues to look toward innovative ways to ensure Sanilac County residents have high-quality, patient-centered, whole-person care, when and where they need it," said Dr. Hamed.
In addition to his medical director position at McKenzie Health System, Dr. Hamed currently serves as associate medical director of the Sanilac County Medical Control Authority and, in 2018, was named medical director of the Health Departments of Sanilac, Tuscola, Huron, and Lapeer counties, as well as District Health Department #2 (Alcona, Iosco, Oscoda, and Ogemaw counties). He also maintains senior staff physician privileges and faculty membership with Henry Ford Health System/Wayne State University's residency program, serves as MAFP Vice President, and is an associate clinical instructor with Michigan State University College of Human Medicine and Central Michigan University College of Medicine.
"Helping to promote and deliver high quality and efficient healthcare to a vulnerable population is a challenge, however, I've been blessed to be working with other leaders who share the same goals, and that helps turn the challenge into an exciting and rewarding experience," said Dr. Hamed.