MHS Swing Bed Patient Shares Wonderful Care Experience
Spending the holidays in a hospital setting can be challenging for patients and families alike. For Dottie Miller, however, her time in the McKenzie Health System Swing Bed Program was a month to remember – for only the best of reasons.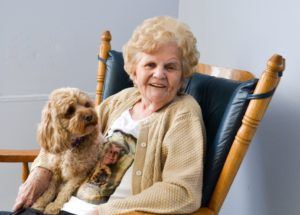 As she prepared to head home after entering the Swing Bed Program to receive treatment for cellulitis, including physical and occupational therapy, Miller wrote a note to the hospital team to commend the "wonderful nurses and therapy staff you have at McKenzie Hospital. They are very kind and gentle and understanding with the elderly. They give you lots of love. They come when you call day or night. I have never had such a wonderful staff take care of me."
The McKenzie Health System Swing Bed Program supports patients who are injured or recovering from surgery or illness and need extra care outside of the home; both patient and family needs are taken care of in a specialty setting that combines skilled nursing and rehabilitation services. The Swing Bed Program allows care to transition or "swing" from acute medical services to skilled nursing and rehabilitation. Bringing together a team of care providers, it is an excellent opportunity for patients who need skilled services to remain in their community and close to their home and family.
"Our goal is to treat every single person in the Swing Bed Program as family, so we were delighted that Dottie felt so at home with our staff," said Heather Chambers, Swing Bed Coordinator at McKenzie Health System. "Even patients not originally hospitalized at McKenzie may qualify for the program. That is important because it allows a patient that may have been cared for in a larger facility to spend their recovery time close to home."
Recognizing that it takes time to recover from illness, stroke, injury, and surgery, the Swing Bed Program brings together a team of physicians, nurses, therapists, dietitians, social workers, and a patient care coordinator to support individuals recovery goals.
In her letter, Miller added, "I love them all and would love to keep them" as she moves back home. If you or a loved one would like to learn more about the Swing Bed Program at McKenzie Health System, you can call 810-648-6170.