McKenzie Health System Auxiliary Announces New Leadership
For over 50 years the McKenzie Health System Auxiliary has shown support for the organization and the community through volunteer work on-site and raising money through events, fundraisers, and the McKenzie Gift Shop. Each fall Auxiliary members elect their leaders for the upcoming year.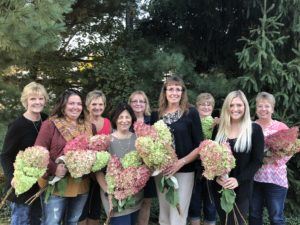 The 2018-2019 McKenzie Health System Auxiliary Board consists of President Rebecca Cambridge, Vice President Merrily Loding, Treasurer Kelsey Loding, and Secretary Audrey Essenmacher. Appointed positions are Jo Derr, Gift Shop Manager; Carol Mitchell, Phone Tree Chair; Erny Doerr, Sunshine Chair; Lynn Fuller, Membership Chair; Phyllis Chambers, Historian; and Shari Phipps, Parliamentarian/Legislative Chair. Public Relations and Foundation Manager Nina Barnett serve as the McKenzie Health System Liaison for the Auxiliary.
"We could not be prouder of the new leadership and members of the McKenzie Health System Auxiliary," said Nina Barnett. "Year after year, these dedicated community members volunteer their time and talent to serve our hospital, our staff, and our community. We are proud to have new members and to welcome back several long-serving members of this strong team. We also want to recognize Patti O'Connor for her eleven years of service in the role of Auxiliary President."
Founded in 1967, the McKenzie Health System Auxiliary offers a wealth of volunteer opportunities. Some of these include visiting with patients and assisting with simple daily tasks, serving in the gift shop, and assisting with fundraising to purchase new equipment for the hospital.
Anyone interested in joining the McKenzie Health System Auxiliary can contact Nina Barnett at 810-648-6127 or nbarnett@mckenziehealth.org. In addition to their work at McKenzie Health System, the Auxiliary members are active in the community and participate in a variety of service and charitable organizations throughout Sanilac County.