Veronica Byrne and Sony Verma of McKenzie Health System Earn Functional Movement Technique Certification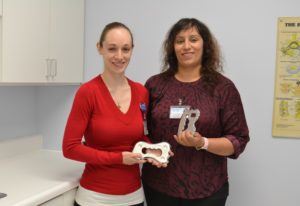 McKenzie Health System is proud to announce that Physical Therapist Veronica Byrne, PT, DPT, CTRS, and Physical Therapy Assistant Sony (Mamta) Verma, PTA, recently attended a course for Instrument Assisted Soft Tissue Mobilization and received their Functional Movement Technique certification through Rock Tape. This particular technique is used with physical therapy for many conditions and surgeries, including total knee replacement and plantar fasciitis.
"We are lucky to have team members like Veronica and Sony who are interested in expanding their education and skills, and fortunate to be able to support them in their endeavors," said Director of Rehabilitation Jenny Long, PT, DPT. "We are pleased and proud to be able to support more patients with these efficient and effective therapies. Even better, patients don't need a separate prescription for these services – they are simply a part of our physical therapy program."
Essentially, Instrument Assisted Soft Tissue Mobilization is a non-invasive manual therapy technique using specially designed stainless steel instruments to assist in detecting and treating scar tissue, inflammation or adhesions. The gentle therapy is often used for acute injuries and ligament injuries and helps therapists mobilize muscles, tendons and ligaments to reduce pain while enhancing mobility and recovery.
Both Byrne and Verma can now use these tools and techniques as part of outpatient physical therapy as well as in the Swing Bed Program. For information or to schedule an appointment with McKenzie Rehabilitation Services, call 810-648-0210 or visit us on the web at www.mckenziehealth.org.