Get the Skinny on Skin Care at Lunch & Learn on July 18!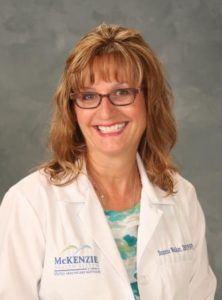 McKenzie Health System is pleased to feature Suzette Walker, DNP, FNP-BC, AOCNP, as the presenter at the July Lunch & Learn program, "The Latest in Skin Care." The workshop is scheduled for Wednesday, July 18, 2018, from Noon to 1 p.m., in the McKenzie Health System Dining Room. Lunch & Learn is a community education series held every third Wednesday of the month. The cost for the workshop is $5, and lunch is included in the price. Pre-registration is required by calling Nina Barnett at 810-648-6127 or emailing nbarnett@mckenziehealth.org.
"We're in the middle of summer, and people should be thinking about their skin!" advises Louise Blasius, LMSW, LPC, Director of Human Services at McKenzie Health System. "The sun feels so good after a long, cold winter, but sun can damage the skin if we don't take steps to protect it. For many of us the harm may have already been done, so we need ways to combat that damage too!"
"Lunch & Learn attendees will learn about what to do to prevent skin injury that the sun can cause, and also what can be done non-surgically if the effects of sun and aging are making their skin look lined, tired and worn out. With new products and techniques, people can look refreshed and energized with just an office visit," explains Blasius.
"So, if you've looked in the mirror lately, and thought your skin could use some help, this is the workshop for you! As always, the class will provide valuable information in a relaxed, personal atmosphere, where questions will be welcomed and a great lunch will be served," adds Blasius. "But, remember that because our dining room has limited seating, pre-registrations are required by calling Nina Barnett at 810-648-6127 or emailing nbarnett@mckenziehealth.org. We encourage people to reserve their space as soon as possible, since this class is sure to fill up fast! We hope to see you there!"