McKenzie Health System Awarded $15,000 Grant for Sandusky High School's "Live Smart: Healthy Hearts" Program
McKenzie Health System, in partnership with Sandusky Community Schools, is the proud recipient of a $15,000 grant for a new "Live Smart: Healthy Hearts" program intended to equip seventh-, eighth- and ninth-grade students with the knowledge they need to choose a healthy lifestyle and lead a healthy life. "Live Smart: Healthy Hearts" is providing the tools needed to monitor, assess and educate each student on their progress throughout the school year with a focus on a healthy heart.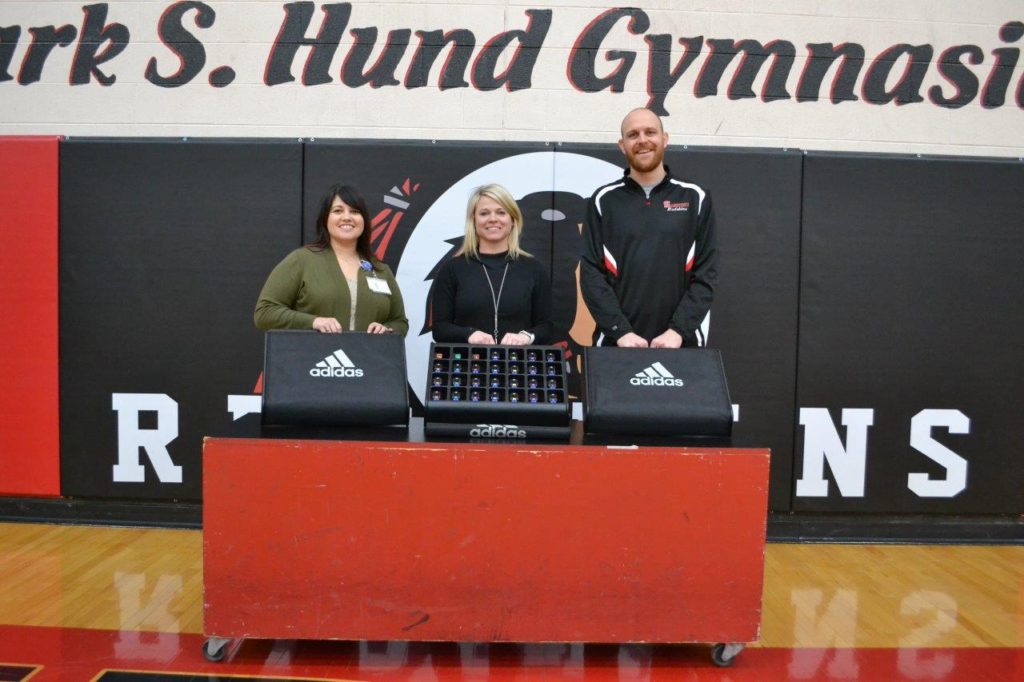 The generous grant was recently awarded by the Coverys Community Healthcare Foundation, which was established to support charitable organizations and endeavors that focus on improving patient safety and care, promoting healthy lifestyles and supporting healthcare professionals.
The grant supports the implementation of the IHT Spirit System, which provides heart rate monitors, software for reports and tracking, lesson plans, education for instructors and a support system of other organizations that have successfully adopted the program. Students will learn about target heart rates in terms of physical education goals and outcomes as well as nutrition goals and programs.
"Live Smart: Healthy Hearts" will encompass exercise, nutrition and all-around healthy habits. Presently, nearly 30 percent of Michigan youth in ninth through twelfth grade are overweight or obese, and more than 65 percent of adults fall into this same category. Healthy eating and physical activity are the two chief behaviors that can prevent obesity and its related health issues, including heart disease, high blood pressure, diabetes, sleep apnea, stroke and more.
"We are thrilled to partner with Sandusky Community Schools to take their current curriculum to the next level, teaching healthy lifestyle skills," said Bill Jo Hennika, Vice President of Operations, McKenzie Health System. "The goal is to equip these students with the information, tools and resources they need to make healthy choices and live long, healthy lives."
"Teaching students the importance of cardiovascular fitness and training within their target heart rate will put them on the path toward lifelong wellness. We are very fortunate to be able to bring this to our students," said teacher Kristen Guibord.
The "Live Smart: Healthy Hearts" program began with seventh grade students being provided with an interactive wrist heart rate monitor during physical education class, allowing the student and teacher to set up programs and specific yearly goals. Software will help track and monitor progress. The students will continue to use the heart rate monitors in eighth and ninth grade as well, increasing their program plan and goals each year. In addition, the program will implement additional nutritional education for all ninth-grade students. McKenzie Health System will provide a registered dietician to teach meal planning based on nutritional needs and heart-healthy food options which will be implemented into the current school curriculum.
Seventh grader Sarah Leen noted that the monitors are "easy to use" and "make us work harder to meet goals."
"It pushes you to work harder and you can achieve your goals because the monitors are color-coded," added seventh grader Mitchell Davis.
McKenzie Health System applied for the grant as part of its ongoing dedication to creating a healthier community. The organization's Live Smart campaign, launched in 2014, includes a broad spectrum of programs, education, support groups and awareness centered on health and wellness.
McKenzie Health System and Sandusky Community Schools will continue to partner to sustain this project by providing staffing and budget support. The initial budget will support three years of the program, which will allow for both organizations to create a work plan for sustainability. Program effectiveness will be reviewed semi-annually for the first two years and annually thereafter to allow for program updates as necessary to the goals and objectives.
Teacher Heath Harris stated that "using the heart rate monitors provides the students with instant visual feedback. We have already observed increased motivation from the students. They are excited to be using the monitors and see whether or not they have met their daily goals. We are excited for the positive impact this will have on the well-being of our students."
"Coverys Community Healthcare Foundation is dedicated to improve community health and we are honored to have their support in providing young adults with the education and data they need," Hennika added.