Fitness and Eating Tips at February Lunch and Learn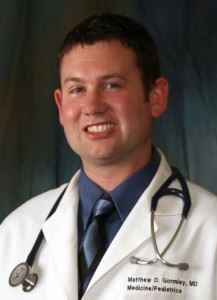 McKenzie Health System is pleased to welcome Dr. Matthew Gormley, McKenzie Health System Family Physician, Internal Medicine & Pediatrics, to present "Tips for Healthy Eating and Fitness" at the February Lunch and Learn workshop, scheduled for Wednesday, February 21, 2018, from Noon to 1 p.m., in the McKenzie Health System Dining Room. Lunch and Learn is a community education series held every third Wednesday of the month. The cost for the workshop is $5, and lunch is included in the price. Pre-registration is required by calling Nina Barnett at 810-648-6127.
"Staying healthy and fit is important for the entire family, especially during these cold winter months when flu is widespread, and the weather tends to keep us indoors and less active," reports Louise Blasius, LMSW, LPC, Director of Human Services at McKenzie Health System. "At February's Lunch and Learn workshop, Dr. Gormley will be giving helpful tips on how to keep both adults and children in great physical shape."
"As always, the workshop will be presented in a relaxed, personal atmosphere, and questions will be encouraged," continues Blasius. "In addition, all attendees will have a delicious, healthy meal. We hope you'll join us!" For more information about the workshop, contact Louise Blasius at 810-648-6181; to reserve your spot, contact Nina Barnett at 810-648-6127.