Debbie Smielewski Celebrates 45 Years at McKenzie Health System
McKenzie Health System recently celebrated Debbie Smielewski's 45 year anniversary of dedicated service to the hospital with an employee gathering and refreshments. Debbie began as a dishwasher while she was still in school and, over the years, worked her way up to Head Cook.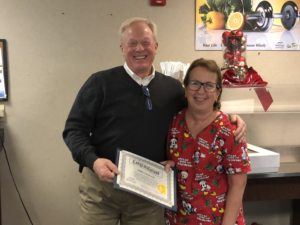 A life-long resident of Argyle, Debbie and her husband Jim have 2 children, Shane and Shannon, and 6 grandchildren. In her free time, she enjoys cooking, gardening, growing flowers, and most of all, spending time with her grandkids.
Debbie shared, "I thoroughly enjoy what I do at McKenzie. I have seen many changes over the years, but have always been treated very well by everyone. I could not think of a better place to spend my days."
"Debbie's skills in the kitchen are thoroughly enjoyed by staff and guests alike. It's very common for patients to comment on how much they enjoy their meals when they are staying with us," said Steve Barnett, McKenzie Health System President, and CEO. "She is currently the longest employed person at the organization and we are fortunate to have her!"