13th Annual McKenzie Golf Scramble a Success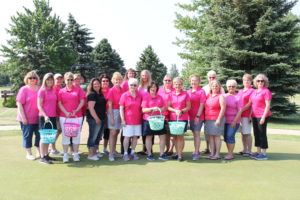 The 13th Annual McKenzie Golf Scramble raised over $12,000, which will play a substantial part in assisting with the renovation of the McKenzie Health System dining room. This area of the hospital is used by guests of patients, staff members, and the community.
Held on June 7 at Woodland Hills Golf Course, the annual event featured fun, competition and a perfect day to play golf. "A tremendous thank you to each of our sponsors, golfers, donors, and volunteers for helping make this event a success," said Patti O'Connor, McKenzie Auxiliary President. "We had a perfect day to come together, enjoy some friendly competition and raise money for our hospital and our community."
The McKenzie Health System Auxiliary is pleased to announce the following winners in the 13th Annual McKenzie Golf Scramble:
Men's first place team: Red Carpet Keim – Sandusky
Women's first place team: Thumb Cellular
Mixed first place team: Stoliker / Pritchett
The winner of the Chipping Contest, with the prize of a cooler full of goodies, was Troy Erbe.
Finally, the winner of the McKenzie Auxiliary Golf Ball Drop was Lynn Fuller, who took home $1,000.
Throughout the year, we will continue to raise money to accomplish our goal of the dining room renovation. Please keep in mind these other opportunities to be a part of this mission:
Bakeless Bake Sale – during September instead of baking a batch of cupcakes or adding calories to your diet, simply mail a check for the amount you would spend on the baking of or purchase of baked goods.
Greens and Spirits Event – November 9, 2018 at Benchwarmers- this event is growing in popularity and planning is underway for this year's event.
Annual Jewelry Sale – December 7, 2018
All proceeds from the annual Golf Scramble and other fundraising efforts are donated to McKenzie Health System. The 14th Annual Golf Scramble is set for June 6, 2019.